New Testing Facility for Renewable Energy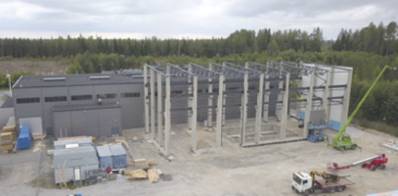 Yaskawa Environmental Energy / The Switch announced a unique facility in Lappeenranta, Finland, enabling the testing and serial production of a new breed of large multi-megawatt-class drives for customers in the wind, marine and turbo industries.
The large drive test center, set to open during spring 2020, will be capable of testing drives up to 15 MW from the start, with an advanced assembly line and lifting capacity of up to 80 tons. It will be one of the largest renewable energy test centers in the world, helping The Switch satisfy growing market demand for increasingly powerful drive train technology.
"Renewable energy can be the real alternative in solving the energy problems of the future," comments Jukka-Pekka Mäkinen, CEO of Yaskawa Environmental Energy / The Switch. "With this facility, we can make possible, from our part, ever-bigger wind turbines, while saving energy for the ships of the world, saving fuel and reducing emissions. Our new test center will play a vital role in that development."
Construction of the center began in May 2019. It is expected to generate employment for an additional 10 to 15 people.