Gazprom, Sovcomflot Pact on LNG Bunkering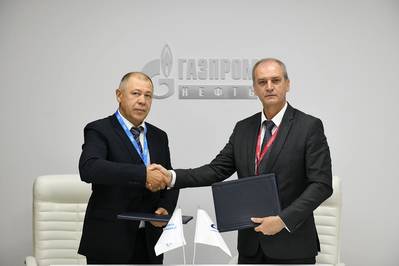 Russian shipping company Sovcomflot and compatriot oil producer Gazprom Neft (SIBN.ME) Marine Bunker have signed an agreement to cooperate on projects for bunkering ships with LNG fuel.

The agreement was signed by Igor Tonkovidov, Executive Vice President and CTO/COO of Sovcomflot, and Andrey Vasiliev, CEO of Gazprom Neft Marine Bunker.

Sovcomflot said that the agreement reinforces the mutual interest of both parties regarding their cooperation in the bunkering of Sovcomflot's tankers with LNG fuel.

Compared to conventional marine fuels, the use of LNG fuel allows to significantly reduce emissions of sulphur oxides, nitrogen oxides, carbon dioxide, and particulate matter, it said.

Igor Tonkovidov said: "We firmly believe that LNG fuel is the optimal solution, both environmentally and economically, for large-tonnage cargo shipping, primarily in high-traffic areas with existing regulatory restrictions on emissions, such as the Baltic and the North Seas, as well as in the Arctic Sea basin."

"For a number of years, Sovcomflot has been systematically working on switching its tanker fleet to LNG fuel, and we welcome the opportunity to expand cooperation with Gazprom Neft in this area, combining our efforts to introduce advanced environmental standards into Russian shipping," he added.

Andrey Vasiliev said: "The adoption of LNG bunker fuel is one of the key trends in anticipation of the entry into force of the new MARPOL environmental regulations. Our agreement is intended to promote synergies between us with the adoption of LNG fuel, with Sovcomflot being a pioneer in switching vessels to the use of LNG fuel in Russia, and Gazprom Neft Marine Bunker being the first Russian company to implement an LNG bunkering project with the planned commissioning of the country's first LNG bunkering vessel in 2021."

In 2018, Sovcomflot made a pioneering step in the industry, adopting LNG as a primary fuel for Aframax crude oil tankers (114,000-dwt). Currently, Sovcomflot has six such tankers in service, which primarily operate across the Baltic and North Seas.

In addition, Sovcomflot has further five LNG-fuelled tankers under construction at the Zvezda Shipbuilding Complex in Primorsky region, Russia.