Excelerate Energy Commissions Bangladesh's First LNG Import Terminal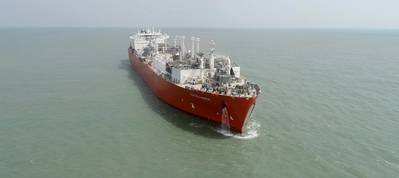 Excelerate Energy Bangladesh completed the commissioning of its Moheshkhali Floating LNG (MLNG) terminal – Bangladesh's first liquefied natural gas (LNG) import facility – signifying the official commencement of operations for the project.

This milestone was achieved approximately 25 months after the execution of project agreements, which took place in July 2016, with the state-owned Bangladesh Oil, Gas & Mineral Corporation (Petrobangla) and 13 months following the receipt of all permits required to achieve financial close in August 2017 with its lenders, led by the International Finance Corporation (IFC).

Located offshore Moheshkhali Island in the Bay of Bengal, the terminal has begun delivering natural gas to the Chittagong region of Bangladesh, marking the first time the country has received natural gas from the global market. The new terminal enables Petrobangla to procure LNG from international natural gas markets and is expected to increase natural supply to the country by twenty percent.

"This innovative project would not be possible without the tremendous support and collaboration of Petrobangla and the Government of Bangladesh," stated Excelerate's Managing Director, Steven Kobos.

"I am proud of our team for successfully completing this critical piece of infrastructure under some of the most challenging offshore conditions. I believe that MLNG will support the future growth of Bangladesh's economy, and we are committed to providing safe and reliable operations for many years to come," Steven added.

"This is a thrilling achievement for Bangladesh, and IFC congratulates the Government of Bangladesh, Petrobangla, and Excelerate Energy who have been tremendous partners to work with. IFC is committed to the Bangladesh power and gas sector, and IFC's support to the project has been multifaceted as an early shareholder, and the lead debt arranger," stated IFC Regional Head of Infrastructure, Asia, Hyun-Chan Cho.

Hyun-Chan added: "Moheshkhali LNG is a transformational project that will create a new market for energy supplies into the country, help diversify fuel sources and secure the much-needed additional natural gas to address power shortages in the country," stated IFC Regional Head of Infrastructure, Asia, Hyun-Chan Cho.