Aker BP Plans Output, Dividend Hike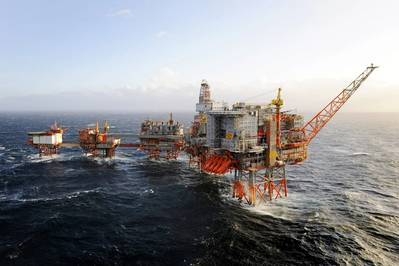 Norway's Aker BP will boost dividend payments between now and 2023 and step up investment in developing offshore oil and gas fields next year, the independent oil company said on Thursday.
The result of a 2016 merger between the Norwegian operations of BP and the Det norske oil firm owned by Norwegian billionaire Kjell Inge Roekke, Aker BP has become the second largest licence holder on the Norwegian continental shelf.
While Aker BP expects its output to be broadly flat year-on- year in 2019 at between 155,000 and 160,000 barrels of oil equivalent per day (boepd), it aims to about triple the production to around 440,000 boepd by 2025.
After paying a dividend of $450 million for 2018, the company aims to raise its 2019 payout to $750 million, $200 million more than previously planned, and then gradually increase it to $1.15 billion in 2023, it said.
"The most surprising piece of information was 2019 dividend guidance ... well above consensus's expectations of $550 million," Sparebank 1 Markets analyst Teodor Sveen-Nilsen said.
"As the company is increasing its production, and the production costs are falling, then dividends should be trending upwards. That's simple," Aker BP's outgoing Chief Financial Officer Alexander Krane told an investor presentation.
He told Reuters the company could stick to its new dividend plan even if the price of North Sea oil falls back to $50 a barrel, where it stood at the end of 2018.
Brent was trading at over $60 a barrel on Thursday.
The aggressive dividend policy sent Oslo-listed Aker BP shares up 5.2 percent by 1455 GMT, outperforming the European oil and gas index which was down 0.3 percent.
The company also said it would raise capital expenditure by a third to $1.6 billion between 2018 and 2019, and its exploration spending by 40 percent to $500 million over the same period as it planned to drill 15 exploration wells, an annual record.
Evy Gloerstad-Clark, Aker BP's new exploration head, said the company's ambition was to become the leading explorer on the Norwegian continental shelf, changing gear in its strategy.
"Looking at the market from 2013 and onwards, it was cheaper to buy than to find oil, but the trends are changing, and in 2018 it was cheaper to explore for oil and gas instead of buying," she told the investors' presentation.
Holding company Aker ASA, controlled by Roekke, owns a 40 percent stake in Aker BP, while BP owns 30 percent.
($1 = 8.5555 Norwegian crowns)
(Additional reporting by Ole Petter Skonnord, editing by Emelia Sithole-Matarise and David Evans)