The Top 10 Offshore Wind Energy Trends to Watch in 2023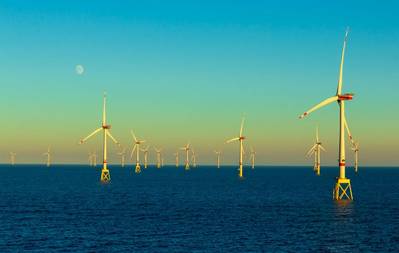 The drivers for global offshore wind growth look good for 2023. Global offshore wind is forecast to grow from over 60 GW at the end of 2022 to 240 GW by 2030 and over 410 GW by 2035. But the sunny outlook must be balanced with some building dark clouds. As we prepare for the new year, let us look at ten factors that will shape the offshore wind sector in 2023.
---
1. Solid foundations: Optimism for the supply chain is founded on declared and inferred offshore wind deployment targets by a growing number of countries of over 400 GW, driven by energy transition and energy security policies.

2. New kids on the block: Offshore wind activity is expected to remain strong in all established markets – China, the UK, the European Union, and Taiwan. Commercial-scale wind farms will advance in the US, new European Union markets (Greece, Ireland, Italy, Poland and the Baltics, Portugal, Spain, etc.), Japan, and South Korea. Governments in Australia, India, the Philippines, Canada, Brazil and Columbia will all take steps to advance offshore wind project permitting.

3. P2X is a game changer: Power-to-X in offshore wind terms means converting electrons to moveable and storable molecules. Initially producing green hydrogen, the electrons will be converted to a range of hydrogen-based energy carriers such as methanol and hydrogen for use in the industrial, residential, and transportation segments. Offshore wind-to-hydrogen production is moving from demonstration to commercial-scale projects within this decade. P2X is the driver for zero-subsidy wind farms, initially in northwest Europe and expanding further in the future.

4. Shifting foundations: The overall foundations for growth are positive, but what type of foundations will be deployed? Bottom fixed (mainly monopiles but also jackets and gravity bases) will dominate on projects installed within this decade, but 2023 will see an increased focus on the development of commercial-scale floating wind farms, which will come on stream at the very earliest at the end of this decade but mainly after 2030.
Floating wind drives different manufacturing supply chain opportunities and challenges to bottom-fixed projects. We are focusing on a potential shortage of large AHTSs, offshore construction vessels with suitable cranes and deck space and crew. The shortage will become a global phenomenon accentuated by local content requirements.

5. The impacts of inflation: Inflation and supply chain disruptions will result in delays and possibly cancellations. Several developers have issued project warnings and are seeking to balance rising costs with power offtake commitments.

6. Supply chain restructuring: The three traditional international turbine OEMs (Siemens, Vestas, and GE) are struggling to make money as they continue to develop ever-larger turbines. These larger turbines drive bigger foundations, power cables, and installation vessels, all requiring supply chain investments…and for the supply chain to make suitable returns on investments.

7. The expansion of the Chinese OEMs: As the Chinese market settles down after an exceptional 2021, Chinese turbine OEMs and other suppliers are looking to export to overseas markets. With large new turbines being offered, one can expect the big three international players to face stiff price competition in their core markets.

8. Vessel (and other supply chain) shortages: With the evolving technical, client, and local content drivers, how many companies will invest in new vessels without long-term commitments? Outside of some established players, the answer is "relatively few." The key driver for construction or support vessel investment is project commitments coupled with developer financial investment decisions. Delays in vessel investment in several key markets will pose a problem from the middle of the decade in delivering forecast capacity.

9. Vessels are evolving, but many questions remain unanswered: Vessel operators understand that they need to decarbonize, but what is the solution to future-proof a vessel? Will it be biofuels, hydrogen-based fuels such as methanol, ammonia, or other hydrogen carriers? How to convert the energy carriers - multi-fuel internal combustion engines or fuel cells? What about battery-based hybrid vessels or even fully electric for SOVs and CTVs? How to secure "green" fuel or electricity supply? So many questions with no firm consensus. The answer will be an individual choice based on availability of energy carriers.
How to secure "green" fuel or electricity supply? So many questions with no firm consensus. The answer will be an individual choice based on availability of energy carriers.

10. More local content: Governments want a return on their investment in offshore wind in terms of local employment. We anticipate increasing local content barriers in the U.S., Taiwanese, Japanese, and South Korean markets. In some markets, like the United States, local content is established at a local and state level in addition to federal policies. Local restrictions will create barriers for developers and may result in project delays and cancellations. The established European market's open trade framework will support ongoing cross-border activity and supply chain confidence.
2023 should be a good year for offshore wind…but players in the segment need to be aware of ongoing challenges.
---
Philip Lewis is Director Research at Intelatus Global Partners. He has extensive market analysis and strategic planning experience in the global energy, maritime and offshore oil and gas sectors. For more information about Intelatus Global Partners, please visit www.intelatus.com or contact Philip Lewis at +44 203-966-2492