Russia Ships Naphtha to China via North Sea Route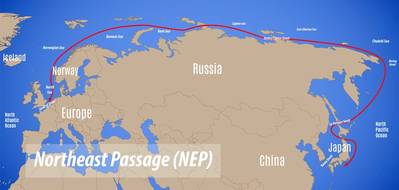 Russia is shipping a naphtha cargo via the North Sea Route (NSR) as Moscow seeks to increase supplies using the route to major trade partner China, cutting its way through European waters, traders said and Refinitiv data showed.
SCF Irtysh is loaded with with 37,000 tonnes of naphtha onboard, loaded at Ust-Luga port on August 5, 2023, for delivery to China. It is the first such loading since at least the late 2000s, according to two traders.
The supplier of the cargo was Gazprom Neft, the traders said. Gazprom Neft did not respond to a request for comment.
The NSR is an Arctic route connecting Russian ports with China. Oil supplies via NSR to China make sense financially, when the route opens during the summer, as it is 7-10 days shorter than via the Suez channel, but shippers have to use ice-class ships and ice breakers, which adds costs to the journey.
During most of the year the NSR is not accessible due to hard ice conditions. Nevertheless Russia is aiming to start year-round NSR supplies from 2024 with a help of ice breakers, which should allow it to increase volumes of goods transported via the route.
Russian President Vladimir Putin has set a target to supply some 200 million metric tons of materials via NSR by 2030. In 2022 Russia supplied some 35 million tons via NSR including crude oil, LNG, coal and metals. This year the volume is expected to remain little changed.
Russia's oil supplies via NSR to China remain quite small with about 0.5 million metric tons shipped so far this year, traders said. Five tankers, loaded from Murmansk, Primorsk and Ust-Luga ports over July-August, were sent to China via NSR.
"Supplies via NSR are not so high as expected this year amid Russia's export cuts and high demand in India. It doesn't make sense to ship to India via NSR (due to high costs compared to route via Suez)", a Russian oil market source said.
Russia has pledged to cut oil exports by 500,000 barrels per day in August and by 300,000 bpd in September as a part of its OPEC+ cooperation.
India became the main buyer of seaborne Urals oil and a major buyer of Arctic grades this year after EU embargo cut off Russian oil supplies to European consumers in December last year.
(Reporting by Reuters; editing by David Evans)