Rubio Taps Outgoing Devon Exec for Energy Policy Advice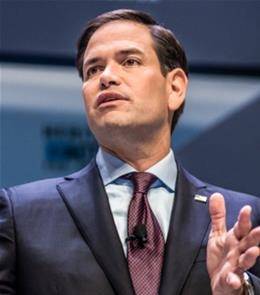 Republican presidential candidate Marco Rubio has picked Devon Energy Corp co-founder Larry Nichols to help oversee his campaign's stance on energy issues, Rubio spokesman Jahan Wilcox said on Monday.
Rubio, a U.S. senator from Florida, made the choice as his campaign efforts move toward the next round of primary voting states, including Nevada on Tuesday and then Oklahoma and Texas on March 1, "Super Tuesday."
Nichols, who stepped down as Devon's CEO in 2012 after more than 30 years but stayed on executive chairman, is set to fully retire this year from the Oklahoma-based oil producer.
Like other powerful voices in the oil and gas industry, Nichols last year echoed calls to lift a 40-year-old federal ban on crude oil exports.
Nichols is set to host a Feb. 26 fundraiser for Rubio in Oklahoma, a key U.S. energy state and home to significant horizontal drilling and hydraulic fracturing, or fracking, and in December donated $50,000 to the super PAC supporting Rubio, according to
Bloomberg News
.
Nichols, 73, is active in several industry groups, including America's Natural Gas Alliance, the National Association of Manufacturers, the Business Industry Political Action Committee, and the
American Petroleum Institute
, according to Devon's website. He also previously led the American Exploration & Production Council.
Before his work in the energy sector, Nichols worked as a special assistant in the U.S. Department of Justice, the company's website said.
Rubio is battling to be the Republican nominee for the Nov. 8 presidential election alongside front-runner and real estate tycoon Donald Trump and fellow U.S. Senator Ted Cruz of Texas, a key oil state.
Ohio Governor John Kasich and retired neurosurgeon Ben Carson are also seeking the Republican nomination.
(Reporting by Emily Stephenson)