Photo of the Day: 'Windship' Over Rotterdam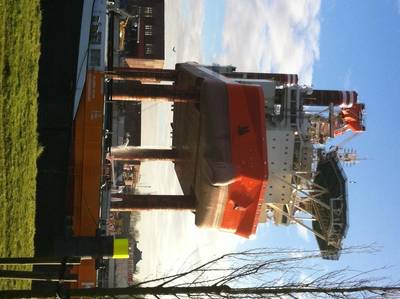 Brave Tern, a vessel used for the installation of wind turbines at sea, dominates the Rotterdam skyline as The 132m long ship was jacked up to a height of about 70 meters to test its extended legs. Brave Tern is owned by Norwegian Fred. Olsen Windcarrier, and it has four jacking legs with which she can position herself firmly on the seabed. The four legs of the Brave Tern are extended with fourteen meter each up to 92.4 meters during recent weeks in Rotterdam.
The upgrading of the jacking legs of the Brave Tern is executed by Franklin
Offshore Europe
in Rotterdam in close co‐operation with SRC
from Estonia
. Modifications to the 2012-built Brave Tern are necessary because wind turbines became heavier and the blades of the rotor blades have grown larger. Sister vessel Bold Tern will get the same upgrade later this year.
Brave Tern will first do a maintenance job in the North Sea, before heading to the U.S. east coast where it will assist in the construction of the first U.S. offshore wind farm.