Oil Retreats After Failing to Hit $70 a Barrel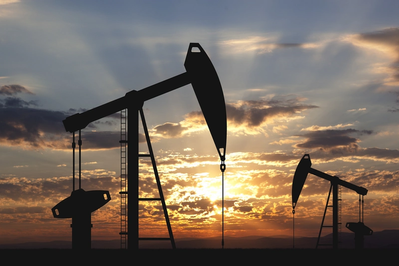 Oil prices fell on Thursday as investors booked profits after this week's rally, but losses were limited by the continuing efforts of OPEC and its allies to curb supplies.

Brent crude futures were down 66 cents at $68.81 a barrel by 1410 GMT, having retreated from a session peak of $69.70, close to its highest level since early February. U.S. West Texas Intermediate (WTI) futures fell 69 cents to $64.48.
Oil prices have risen nearly 10 percent in the past two weeks, boosted by a weaker U.S. dollar and tensions between Iran and Saudi Arabia that raised concern about
Middle East supplies
already restricted by an OPEC-led production pact.

Prices recorded their biggest one-day gain since November on Wednesday after an unexpected drop in U.S. crude inventories.

"The bulls are back in town and they're all looking for much bigger gains. But I think it is too early and today is really just a reality check," said Saxo Bank senior manager Ole Hansen.

"We have come within half a dollar of key resistance on May crude and that is attracting some profit-taking."

The oil derivatives market shows most activity in the past week has centred around options to buy, known as "call options", which give the holder the possiblity to purchase oil at a given price by a certain date.

Call options to buy oil at $80 a barrel by the end of next month have changed hands more often in the past week than options at any other price level.

The U.S. Energy Information Administration said on Wednesday that U.S. crude inventories <C-STK-T-EIA> fell by 2.6 million barrels to 428.31 million barrels in the week ending March 16.

ING said the drawdown was partly because of a drop in imports of about 500,000 barrels per day (bpd) to an average 7.08 million bpd last week and an 86,000 bpd rise in exports to an average 1.57 million bpd.
But the confident mood in the oil market has been tempered by U.S. crude production <C-OUT-T-EIA>, which climbed to a record 10.4 million bpd last week, putting U.S. output ahead of Saudi Arabia and closing in on Russia's 11 million bpd.

U.S. production rises have been countered by the deal to cut output by the Organization of the Petroleum Exporting Countries, Russia and their allies. The agreement has run since the start of 2017 and is due to expire at the end of 2018.
"We continue to see fragility in the oil market,"
said Julius Baer
's head of commodity strategy, Norbert Ruecker.

"Profit-taking risks still loom large, strong output growth challenges the market-tightening narrative and the supply deal's overdue transitioning remains blanketed in uncertainty."
By Tom Balmforth, Additional reporting by Amanda Cooper in LONDON and Henning Gloystein in SINGAPORE