Oil Plus Announces Senior Management Appointments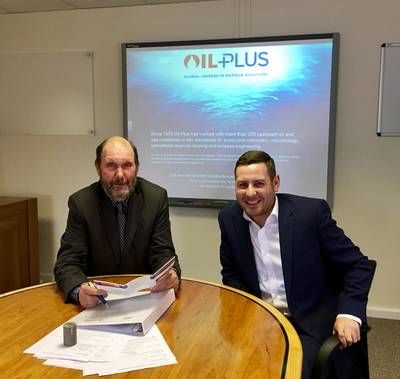 Oil Plus Ltd, a specialist oil and gas consultancy, has boosted its senior management team as the company looks to strengthen and grow its position in the Middle East and globally.
Peter Sanders and Clarke Shepherd have taken on the respective roles of technical manager and global business development director at the firm that advises on global oilfield water management, production chemistry, microbiology, reservoir souring and process engineering.
Sanders, an oil and gas science veteran with over 30 years' experience, and Shepherd, an experienced project controls and business development manager, will support Oil Plus in providing clients with advice on the design of efficient production facilities and cost-effective operations.
The company plans on increasing its operations in Saudi Arabia, Oman, UAE and India as well as strengthening its relationship with an existing strategic partner in Kuwait. This will be supported by opening a new regional laboratory over the coming months.
Sanders was previously with the Danish Technological Institute where he led a team of PhD level scientists in areas such as biocide evaluation, Microbially Enhanced Oil Recovery, Reservoir Souring and Microbially Influenced Corrosion Risk Assessment. Prior to this he was employed in Saudi Arabia by Saudi Aramco initially as a senior scientist in oilfield microbiology, before progressing through to a supervisory role covering corrosion and inorganic scaling. He began his career at Oil Plus in 1988.
Shepherd joins from supporting upstream developments for Maersk Oil, where he held the position of project controls specialist. With 14 years' experience in the oil and gas industry, Shepherd has also previously worked with
Premier Oil
(PMOIF)
, Parkmead Group, LR Senergy and
BP
(BP)
. Clarke is also the co-founder of Aberdeen-based Evolve Group, where he heads up the recently launched software development division, Evolve iMS.
In March 2017, Oil Plus was acquired by Mark Cavanagh, managing director of Crandale Consultants, from John Crane Inc. Since 1978, Oil Plus has worked with more than 250 upstream oil and gas companies in key disciplines of production chemistry, microbiology, specialized reservoir souring and process engineering.