Oil Dips, But Remains in View of $60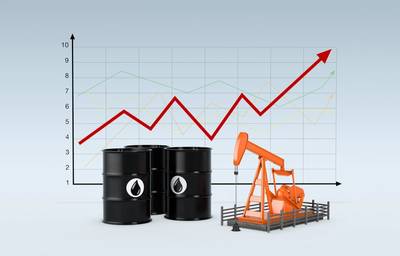 U.S. crude stocks fell by 761,000 barrels last week - API.
Oil eased on Wednesday, edging lower for a second day, although an unexpected drop in U.S. crude inventories helped keep the price within sight of this week's 26-month highs.
A rise in the dollar to one-month highs against the euro following a signal the previous day by the head of the U.S. Federal Reserve that rates will continue to tighten dampened the broader commodity markets and that weakness fed into oil.
Brent November crude futures were down 31 cents at $58.13 a barrel by 1055 GMT, while U.S. crude for November delivery was unchanged on the day at $51.88.
"With a high of $59.49, Brent has failed a first attempt at $60 and we will see if there is enough in the weekly (energy inventory statistics) to try another attempt today.
"The Dollar Index is rising, it is still far away from the levels seen at the start of the year, but the oil price increase should have a positive impact on CPI which in turn will increase the odds of more U.S. interest rate hikes," Petromatrix analyst Olivier Jakob said.
Fed Chair
Janet Yellen said
on Tuesday it would be "imprudent" to keep rates on hold until U.S. inflation hit the central bank's target of 2 percent.
A stronger dollar often results in weaker oil prices, as non-U.S. investors find it more profitable to sell assets priced in the U.S. currency.
Nonetheless, Brent is set for a 22 percent gain in the third quarter of this year, its largest rise in the period between July and September since 2004, thanks in part to coordinated output cuts.
The Organization of the Petroleum Exporting Countries and 11 rival producers, including Russia, have committed to output cuts of 1.8 million bpd between January 2017 and March 2018 to help global supply align with demand.
Brent futures are commanding their highest premium over U.S. crude in more than two years, partly because of the quick production response by U.S. shale producers to any uptick in price.
U.S. crude stocks fell by 761,000 barrels last week as refineries boosted production, in contrast with expectations for a fourth consecutive weekly increase.
The U.S. Energy Information Administration will release official inventory data at 10:30 a.m. EDT (1430 GMT).
By Amanda Cooper