Offshore Wind Market in Aberdeen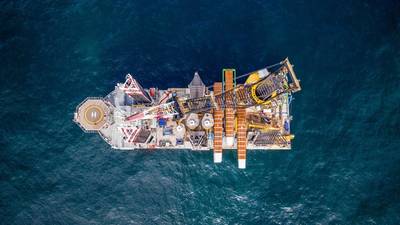 The sight of offshore wind turbines off the coast of Aberdeen symbolises a change in direction for the city, its energy mix and its offshore industry, says a press release by UK Chamber of Shipping.
Looking out to sea from Aberdeen, a gaggle of offshore wind turbines floats among the usual scattering of offshore support vessels waiting at anchor. Beside them waits an enormous wind turbine installation vessel (WTIV), recognisable by its four upright jack-up legs, which are raised above the water while the ship is not in service.
The sight of these structures symbolises a change in direction for Aberdeen, its energy mix and its offshore industry.
The turbines are part of the European Offshore Wind Deployment Centre (EOWDC), which is currently being installed in Aberdeen Bay. The windfarm was this month connected to the
National Grid
(NGG)
and, once complete, is expected to produce enough energy to power 78,529 homes.
The project will comprise eleven of the world's largest and most powerful turbines, and will trial the latest generation of offshore wind technology. Aside from these world-leading credentials, the site has also found notoriety in having been subject to an unsuccessful legal challenge by US President Donald Trump, who complained the turbines would ruin the sea view from his Scottish golf course.
The first of the project's super-sized wind turbines was installed in April. The 191-metre-high structure has three blades, each 80 metres in length. A single rotation of these blades is capable of generating enough electricity to power an average UK home for a day.
The EOWDC is being developed by Sweden's Vattenfall – but it may be surprising to note that the UK owns the largest number of wind turbines installed in the
North Sea
, with 43% of the count, according to data from WindEurope. Germany owns 34%, the second largest proportion; followed by Denmark (8%),
Netherlands
(7%) and Belgium (6%).
A total of €18.2 billion (£16 billion) was invested in offshore wind projects in Europe during 2016, which helped finance a record 5GW of new capacity that year, according to WindEurope figures. This total investment dropped to €7.5 billion (£6.6 billion) in 2017 - with the new capacity being financed falling to 2.5GW last year, the lowest level seen since 2014 - due to projects being postponed in Germany.
But this slowdown would appear to be a short-term phenomenon.
Europe's offshore wind installations today comprise 4,149 turbines across 92 windfarms owned by 11 different countries. By 2024, estimates say 20% of all European offshore activity will be wind-related. But what is remarkable is that, previous to 2001, there were no offshore windfarms being installed worldwide.