Novatek Kicks-off Yamal LNG's Train 3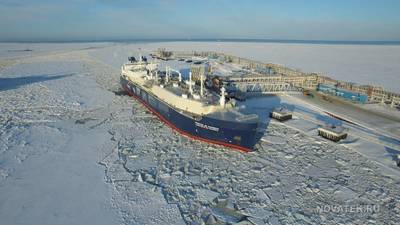 Russia's Novatek (NVTK.ME) has begun production of the commissioning LNG from its third 5.5 million mt/year train at the Yamal LNG project, bringing the plant's total capacity to 16.5 mln tonnes of LNG per year.

"We have successfully launched all three LNG trains at our flagship Yamal LNG project according to our revised early launch schedule," Novatek's head Leonid Mikhelson said.

Russia's largest independent natural gas producer said in a press release that the third LNG train was launched more than one year ahead of the planned original schedule. All three technological trains have been launched on budget, it said.

This fact is unprecedented for the industry plagued by massive cost overruns and project delays, Mikhelson claimed.

"We have transformed NOVATEK into a global gas player and obtained the unique experience of design and construction of Arctic LNG projects. We will use this experience implementing our future LNG projects in this prolific hydrocarbon resource basin. The innovative fourth LNG train at Yamal LNG will be based on NOVATEK's proprietary liquefaction technology called "Arctic Cascade" and will utilize Russian-manufactured equipment," he added.

Yamal LNG project (50.1% owned by Novatek, 20% - France's Total, 20% - China's CNPC, 9.9% - Silk Road Fund) is being implemented on the resource base of the Yuzhno-Tambeyskoye field in Russia's Arctic region.

Production at the first LNG train was commenced on December 5, 2017. 7. On August 2018, Yamal LNG shipped the first batch of LNG after the launch of the second train of the plant.

Meanwhile, a report in Reuter's said that a LNG tanker is transferring a cargo of Russia's Yamal LNG to another vessel off the tip of northern Norway on Thursday, the first such operation that will help the facility raise production.

The Vladimir Rusanov, an Arc7 ice-breaking LNG tanker, and the lower Arctic-classed Pskov LNG tanker are both anchored off Honningsvag, Norway, according to Refinitiv Eikon data.