Novatek Delivers its First LNG Cargo to India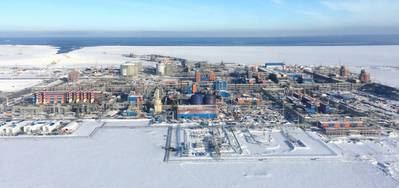 The Russian natural gas producer, Novatek (NVTK.ME), has confirmed that it delivered its first shipment of liquefied natural gas (LNG) produced by the Yamal LNG project to India on 27 March.
"The LNG was produced by the Yamal LNG project, led by the Russian company, and marks the first ever delivery of
Russian Artic
LNG to the country," said the company.
The cargo was shipped through the company's subsidiary, Novatek Gas and Power Asia.
Novatek's Deputy Chairman of its Management Board Board Lev Feodosyev said: "One of our core priorities enumerated in the Company's Corporate Strategy up to 2030, is the expansion of the supply geography and the growth of our presence in the key Asian markets. The first cargo delivered to the growing Indian market is an important development step in this direction".
In a separate development, Leonid Mikhelson, Chairman of the Management Board of PAO Novatek and Xu Lirong, Chairman of the Board of China COSCO
SHIPPING Corporation Limited
reviewed the good cooperation record on the Yamal LNG Project and agreed to expand the mutual cooperation in scope and depth, especially to expand the dialogue on Arctic transportation collaboration.
PAO Novatek is one of the largest independent natural gas producers in Russia. Founded in 1994, the Company is engaged in the exploration, production, processing and marketing of natural gas and liquid hydrocarbons.
The Company's upstream activities are concentrated mainly in the prolific Yamal-Nenets Autonomous Region, which is the world's largest natural gas producing area and accounts for approximately 80% of Russia's natural gas production and approximately 16% of the world's gas production.