Mongolia Coal Export Earnings Surge after N.Korea Ban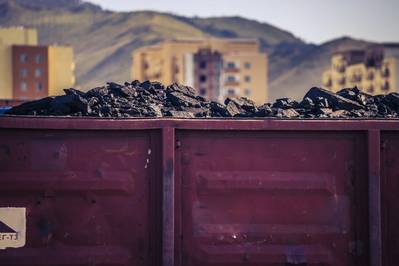 Mongolia's coal export earnings surged nearly fivefold in the first five months of the year, according to official data, with the country taking advantage of sanctions on North Korea to boost deliveries to China, its major customer.
Cash-strapped Mongolia was forced to turn to the International Monetary Fund for support this year following a collapse in foreign investment, declining commodity prices and a downturn in coal demand.
But it is now reaping the benefits of a ban on exports from North Korea, which has forced China to find alternative coal suppliers. The value of Mongolia's coal exports rose to $1.01 billion in the first five months of 2017, 4.6-times higher than the same period last year.
The rise in exports contributed to a 69.5-percent increase in Mongolia's foreign trade surplus, which hit $1 billion, the country's statistics office said on Tuesday.
According to the latest data from China's customs authority, Mongolia became China's second biggest supplier of non-lignite coal in the first four months of this year, with deliveries reaching a total of 11.7 million tonnes, more than double the same period of 2016.
The average price of Mongolian coal delivered to China in April stood at $66 a tonne, double the value in April last year, though still much cheaper than the average $122 per tonne for Australian shipments.
Mongolia's
base metal exports
, including copper, also jumped 58.8 year-on-year to $41.3 million over the first five months of 2017. Total exports grew 42 percent to $2.5 billion.
Rising fuel costs contributed to a 27.8-percent climb in the value of total imports, with the value of diesel imports growing 2.4 times to $141.5 million and gasoline up 49 percent at $97.9 million.
Mongolia's largest copper mine,
Oyu Tolgoi
, run by Anglo-Australian miner
Rio Tinto
(RTNTF)
, saw its revenues rise 5.7 percent year-on-year in the first quarter of the year, citing higher prices and copper concentrate sales.
(Reporting by Terrence Edwards; Writing by David Stanway; Editing by Joseph Radford)