First of Its Kind Survey Completed off Malaysia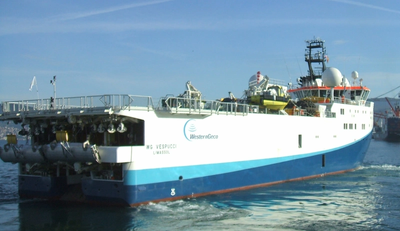 First acquisition of towed-streamer and ocean-bottom nodal seismic data with a single vessel

WesternGeco has completed a hybrid seismic acquisition survey using Schlumberger (SLB)'s newly deployed multipurpose vessel (MPV). The 340 km2 3D seismic survey was acquired offshore Sarawak, Malaysia, for Roc Oil using a triple source array with simultaneous recording by ocean-bottom nodes and a towed-streamer spread, for the first time all from a single seismic vessel.

The WG Vespucci MPV acquired the high-quality ocean-bottom seismic (OBS) data required around existing platform obstructions supplemented by streamer seismic data. Simultaneously acquiring the OBS and streamer data without having to employ multiple acquisition vessels and crews resulted in cost reduction and greater efficiency while achieving the survey objectives.

"Providing a hybrid OBS and streamer acquisition option with our multipurpose vessel versus a traditional OBS or towed streamer survey gave the customer a versatile and cost-effective solution to better fit their specific challenges and budget," said Maurice Nessim, president, WesternGeco, Schlumberger. "This industry-first acquisition underscores our commitment to offering our customers innovative approaches to offshore seismic acquisition challenges."

The WG Vespucci is one of three newly configured MPVs in the WesternGeco fleet. The WG Tasman and WG Cook are equipped with Schlumberger's Q-Seabed multicomponent seabed seismic systems.