Dogger Bank Ownership Structure Announced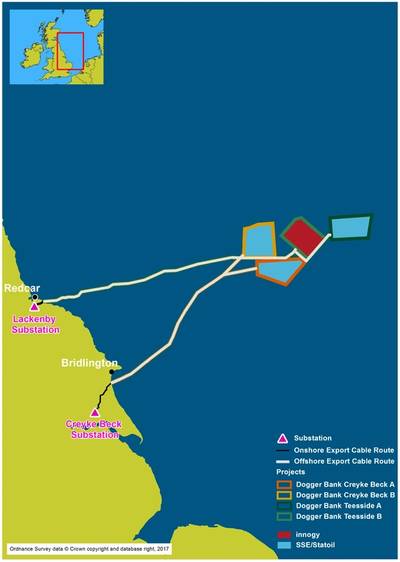 The ownership arrangements for the four consented Dogger Bank offshore wind projects have been agreed and signed by the three Forewind shareholders, innogy, SSE and Statoil

(STO)

.
Offshore wind consortium Forewind was awarded consents for 4.8 gigawatt (GW) of offshore wind development at Dogger Bank in the North Sea in 2015. The consents comprised four individual 1.2GW projects.
SSE and Statoil together will each own 50 percent of the three projects: Dogger Bank Creyke Beck A, Dogger Bank Creyke Beck B and Dogger Bank Teesside A. The remaining project, Dogger Bank Teesside B will be owned 100 percent by innogy.
The new ownership agreements mean the projects will now be progressed towards Financial Investment Decisions by their respective owners.
Forewind General Manager, Trevor Baker said that the consortium successfully delivered on its objective to achieve the consents and now that the projects have been allocated, the respective owners will determine how the four projects, each a significant development in its own right, will be taken forward.
innogy SE Director of Offshore Wind, Paul Cowling, said: "The Forewind consortium has completed its job of achieving planning permission, and this is great news for innogy. We will now develop the Dogger Bank Teesside B offshore wind project in line with our current pipeline, as we seek to deliver on our renewable energy growth ambitions, actively shaping the energy world of the future".
The 1.2GW innogy project alone is twice the size of world's largest existing offshore wind farm, while the three SSE and Statoil projects together total 3.6GW.
SSE Director of Development, Mike Seaton said: "Offshore wind is a major part of SSE's transition towards a low carbon portfolio and has the potential to deliver significant industrial benefits for the UK economy. As a leading UK developer of offshore wind SSE is looking forward to taking the next steps to progress the Dogger Bank projects."
Statoil Executive Vice President for New
Energy Solutions
, Irene Rummelhoff added that: "Dogger Bank represents a unique opportunity for the UK to develop secure, sustainable and cost-competitive energy from its world-class wind resource. The asset constitutes a very important element in Statoil's strategy to gradually complement our oil and gas portfolio with profitable renewable energy solutions."
The Forewind consortium will no longer be involved with the Dogger Bank projects however it will oversee the decommissioning of the two met masts and removal of the suction-installed mono bucket foundations later in 2017.