CMHI, DNV GL Ink LoI for Two Jack-ups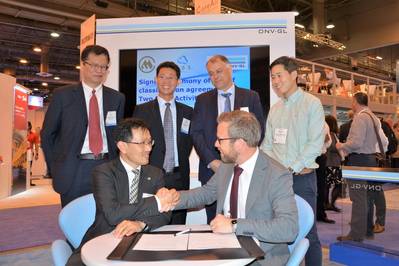 DNV GL announced it has signed a letter of intent (LoI) with shipyard China Merchants Heavy Industry (Jiangsu) Co., Ltd (CMHI) for the classification of two multi-activity jack-up units at the Offshore Technology Conference (OTC) in Houston.
Ordered by OOS Energy B.V., which is affiliated with Netherlands-based Overdulve Offshore Services (OOS) International, these 96 m long units will be purpose-built for the decommissioning market. Construction is scheduled to start later this year.
The two identical four-legged, self-elevating multi-activity units (MAUs) will be used in decommissioning operations. "This means that the MAUs will be equipped for light drilling operations to close wells. In addition, they can deconstruct the top side of an oil rig's structure, and remove the jacket structure which goes right down to the sea floor," said Bas Veerman, Business Development Manager Benelux at DNV GL – Maritime.
Two cranes, one with a maximum hook height of 92 m and one with a maximum hook height of 122m above deck and a combined lifting capacity of 2,400 tons, can work in tandem to dismantle decommissioned offshore structures, lifting parts onto the MAU's own deck, before transporting them back to shore. The unit is also equipped to install next generation wind turbines.
The MAUs will be able to operate in 55m water depth in harsh conditions such as those found in the North Sea. In benign circumstances the units can operate in 80m of water depth. The units will be self-propelled by four steerable thrusters and are also equipped with a dynamic positioning system (DP2 system). Four dual fuel main generators, located in two separate engine rooms, provide power for propulsion, cranes, the drilling package and all auxiliary functions.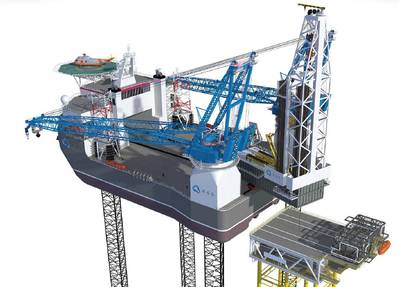 (Image: DNV GL)


Specifications
Jack-up type: self-propelled, DP2
Length x breadth: 96 x 58m
Transit draft: 5m
Main engines: 4x 3,800kW
Main generators: 4x 3,500 ekW
Thrusters: 4 x 2,350 kW
Cranes (max hook height above deck): 92m/ 122m
Cranes (lifting capacity each): 1,200 mt
For OOS Energy, these will be the first of the company's units to be classed by DNV GL.
"We welcome OOS as a new customer for classification and highly value their trust in DNV GL," said Ernst Meyer, Director of Offshore Classification at DNV GL – Maritime.
Cor Selen, CEO co-owner/ founder of OOS Energy, said, "After review of the options available, OOS Energy selected DNV GL to be the class society for its new Multi Activity Units. The decision has been based on the strong presence of DNV GL in the market that OOS Energy is targeting with these unique units. We furthermore like the professionalism and level of quality assurance from the DNV GL experts."
"This project with CMHI marks the continuation of a very fruitful relationship, and we look forward to undertaking many more projects with CMHI in the future," Meyer said.
Yao Rulin, General Manager of CMHI (Jiangsu), said, "DNV GL has demonstrated an excellent level of service during the last project we worked on in our yard, a 400K Valemax II VLOC and mid/deep water semi-submersible drilling unit. We appreciate DNV GL's solutions orientated approach and that their experts are service-minded, while never compromising on quality. Through this project, our relationship will become even closer and stronger. We look forward to working with DNV GL in the future, with more comprehensive cooperation for other ship type segments."