China to take action against 'uncontrolled' hydro on Yangtze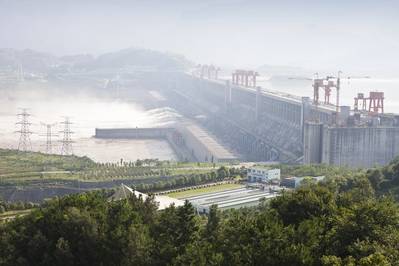 China's has urged local governments along the Yangtze river to survey the environmental damage done by the "uncontrolled" development of small-scale hydropower, warning that some plants could be closed, according to a government notice on Wednesday.
Local authorities have been instructed to conduct a survey into hydropower construction along the Yangtze River Economic Belt, which stretches from Yunnan in the far southwest to Jiangsu and Zhejiang on the eastern coast.
Small plants that damage the environment, encroach upon protected areas or violate approval rules could eventually be dismantled, China's planning agency, the National Development and Reform Commission (NDRC), said.
The Yangtze and its tributaries are the location of some of the world's biggest hydropower plants, including the 22.5-gigawatt plant at the Three Gorges Dam.
There were around 75 gigawatts of small-scale hydropower in China by the end of 2015, nearly a quarter of the country's total hydro capacity. Beijing vowed to limit new projects to just 5 gigawatts over the 2016-2020 period, and to ban them completely in eastern regions.
Impoverished regions in China once encouraged private businesses to invest in small-scale hydro plants in order to boost the economy, but overdevelopment on the Yangtze river and its tributaries has damaged fragile ecosystems, especially in upstream provinces like Yunnan.
Yunnan's government has already made efforts to demolish "inefficient" small dams on the largely undeveloped Nu river, which flows into Myanmar, as well as the Jinsha, the upstream section of the Yangtze.
Sichuan province, China's biggest hydropower region, also vowed on Tuesday to "rectify" or shut down problematic small hydro plants, including those in protected nature zones, and tackle "disorderly development" in the sector.
China's giant state-owned power developers have also complained that the large number of small and poorly designed hydropower plants has reduced water flows and eroded the economic viability of their own large-scale hydropower projects on some rivers in the country's southwest.
(Reporting by David Stanway; Editing by Tom Hogue)