China's LNG Woes Boost Coal, But for How Long?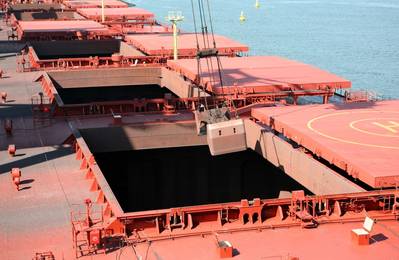 A sure sign that China is struggling with its planned switch to natural gas from coal for winter heating is the spot price of Australian coal climbing back above $100 a tonne.
Spot cargoes of thermal coal
from Australia's Newcastle port
, an Asian benchmark for the fuel used mainly in power plants, rose to $100.65 a tonne on Wednesday, breaching the triple-figure barrier for the first time since Nov. 1 and hitting their highest since mid-September.
The price is also 9.2 percent higher than a recent low of $92.20 touched on Nov. 23 as the market responds to signs that Beijing is relaxing its anti-coal stance due to the scarcity of natural gas and the sharply higher prices for the cleaner-burning fuel that is available.
The price of domestic coal in China is also rising, with consultancy Steelhome assessing thermal coal at Qinhuangdao at 620 yuan ($93.65) a tonne on Dec. 13, up slightly from 615 yuan at the start of December, but 9.7 percent higher than levels that prevailed in the middle of this year.
The news is certainly bullish for coal, at least in the short term, as restrictions on its use are eased in the face of the natural gas crunch.
Chinese media reported on Dec. 11 that a coal-fired power plant in the capital Beijing will be restarted, the latest step in a series of measures allowing more coal to be burned.
The authorities had planned to cut coal consumption over winter, especially in northern China, to lower air pollution that has choked cities in previous years.
The measures have certainly boosted natural gas demand, with China importing a record 6.55 million tonnes in November via pipeline and seaborne liquefied natural gas (LNG).
China's strong LNG demand, which was up 48 percent in the first 10 months of the year, has helped drive Asian spot prices <LNG-AS> to $10.10 per million British thermal units (mmBtu) for the week ended Dec. 7, exceeding the peak of $9.75 hit the previous winter and the highest in just over three years.
While natural gas imports have been roaring ahead, the same cannot be said for coal, with November's 22.05 million tonnes barely up from October's 21.28 million, and both sharply lower than September's 27.08 million.
Vessel-tracking data compiled by
Thomson Reuters
also isn't pointing to a robust December for China's seaborne coal imports, with 4.6 million tonnes discharged in the first 13 days of the month, indicative of total arrivals of 14.7 million tonnes.
The total is likely to rise as more cargoes leave for China from major exporters Indonesia and Australia, but even so, the vessel-tracking still isn't showing a surge in coal imports.
This may change for the latter months of winter in January and February, but so far the rally in spot
Australian thermal
coal prices appears to be driven more by sentiment than an actual surge in demand.
COAL'S LAST HURRAH?
Another point to consider is what will happen in the 2018/19 winter.
It's hard to see the Chinese authorities backing down from their push to natural gas. It's more likely they will learn from this year's difficulties and spend much of 2018 building suitable infrastructure to distribute and store natural gas.
It seems equally likely China's appetite for LNG will continue to rise, and perhaps demand will start to rise earlier in the year, assuming the ability to build inventories of natural gas has been put in place.
The outlook for thermal coal imports is more murky, and will largely depend on a combination of the domestic price, regional dynamics within China and policy prescriptions.
By Clyde Russell