ABS Approves First Subsea's Large Scale Steel Forgings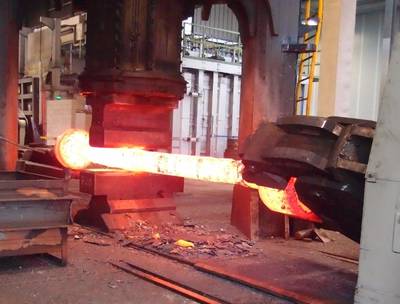 Subsea mooring specialist, First Subsea, has achieved American Bureau of Shipping ABS 2009 Approval for its larger R4 steel forgings up to 562mm diameter. These are the largest diameter forgings to have received the approval, and set the benchmark for Offshore Mooring Accessories with forged bars to the requirements of 'ABS Guide for Offshore Mooring Chain (2009)', section 1.9 Special Subsea Mooring Connectors.
The ABS 2009 Certification of Offshore Mooring Chain (updated 2014) specifies the requirements for materials, design, manufacture, and testing of offshore mooring chain and accessories, including special subsea mooring connectors, intended to be used for temporary and permanent mooring systems.
The approval applies to First Subsea's range of Ballgrab ball and taper mooring connectors manufactured from steel grade 4330V forgings up to 562mm outside diameter. The subsea mooring connectors can be used with R3, R3S, R4, R4S & R5 grade chain and shackle.
Steel Research Pays Off
The ABS 2009 Approval builds on First Subsea's investment in research into large scale steel forgings. In collaboration with the University of Sheffield's Institute for Microstructural and Mechanical Process Engineering (IMMPETUS), the company leads the world in research into the manufacture and testing of 4330V large scale steel forgings.
The company's research was instrumental in the development of the steel grade 4330V, and in assisting ABS in specifying the optimum sample testing location for assessing the forging's mechanical properties and Charpy impact values.
"It has been a smooth transition from 510mm to 562mm diameter to achieve the ABS approval. Customers can be assured of the quality and engineering integrity of First Subsea's connectors as operators look to extend the life of their deepwater permanent moorings, says Greg Campbell-Smith, global business development manager, First Subsea. "The mechanical values we achieved from our latest testing indicated we could be offering R4S grade material over 500mm in the near future."