Yamal LNG Commissioned in Record Time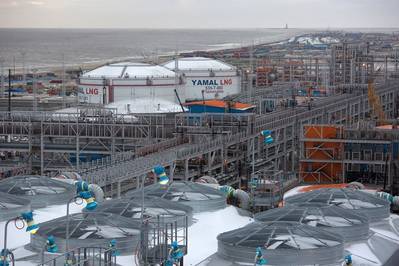 Russia's PAO Novatek (NVTK.ME) has launched a second liquefied natural gas (LNG) production train at its plant on the Yamal peninsula ahead of schedule.

Russia's largest independent natural gas producer announced that "Yamal LNG has launched the second LNG train and dispatched the first cargo from this unit. The second LNG train commissioned six months ahead of its original schedule, and combined with the first LNG train launch in December 2017, has achieved the commissioning of the first two LNG trains in record time."

The first gas input into the second LNG train occurred on the 21st July and is now operating at its rated nameplate capacity of 5.5 million tons per annum (mmpta). The total capacity of the two working LNG trains is 11 mmpta.

"We have not only commissioned the first train at Yamal LNG on time and on budget, but we have significantly expedited the formal commissioning of the second train." noted Novatek's Chairman of Management Board Leonid Mikhelson.

"Presently, the third LNG train start-up is also expected to be launched significantly ahead of original schedule – an unprecedented achievement for the LNG industry. The total operating capacity of the two working LNG trains already approximates about 3.5% of the global LNG market and becomes a significant project in the context of the global LNG landscape. Our strategic goal is to produce between 55 and 60 mmtpa by 2030," Leonid added.

"Following the successful start-up of Yamal LNG in December last year, the first shipment from the second train ahead of schedule is another major milestone for this world-class LNG project," commented Patrick Pouyanné, Chairman and CEO of Total.

Patrick added: "The Yamal LNG production adds competitive LNG resources to our growing portfolio. We will keep developing new LNG projects in the Russian Arctic with our strategic partner Novatek, as illustrated by the recent announcement of our entry in Arctic LNG 2 with 10% direct working interest."

Last May, Novatek and Total also agreed that Total will have the opportunity to acquire a 10 to 15% direct interest in Novatek's future LNG projects in Yamal and Gydan.

The project is operated by the Yamal LNG Company, owned by Russian independent gas producer Novatek (50.1%), Total (20%), CNPC (20%) and Silk Road Fund (9.9%).

One of the biggest LNG projects in the world, Yamal LNG is developing the 4.6 billion barrels of oil equivalent of reserves (boe) from the giant onshore South Tambey gas and condensate field, located on the Yamal Peninsula.

The project includes an integrated gas treatment and liquefaction facility with three trains of 5.5 million tons per year capacity each, storage tanks, and port and airport infrastructure.