Warm Sea Water Limits Nuclear Reactor Capacity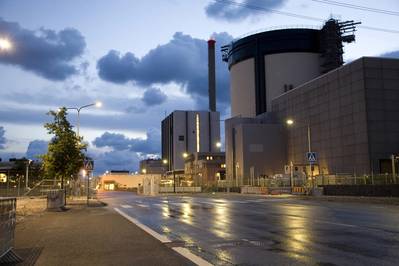 Swedish utility Vattenfall said its Ringhals 2 nuclear reactor was running at 49 percent capacity on Tuesday as the sea water used to cool it nears an upper temperature limit.
Water from the Baltic Sea is used to cool several nuclear reactors along Sweden's coastline, but temperatures are unusually warm following a prolonged period of hot weather.
Vattenfall on Monday posted plans to take Ringhals 2 out of operation after water reached that reactor's 25 degree Celsius limit.
However Vattenfall spokesman Peter Stedt said on Tuesday it had opted to keep capacity at 49 percent after the sea water cooled to 24 degrees, while closely monitoring water temperatures as the warm weather continued.
The 865-megawatt (MW) pressurized water Ringhals 2 reactor is one of four reactors, which produce around 20 percent of Sweden's electricity. While Ringhals 3 and 4 are still online, Ringhals 1 is shut for annual planned maintenance.
(Reporting by Anna Ringstrom Editing by Alexander Smith)