Unmanned Platform Starts Production at Oseberg Vestflanken 2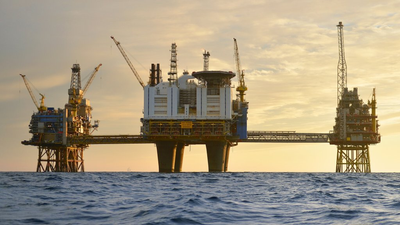 The Oseberg Vestflanken 2 field in the North Sea came on stream on Sunday. Remote-operated from the Oseberg field center, the new Oseberg H platform is the first unmanned platform on the Norwegian Continental Shelf. Recoverable resources are 110 million barrels.
"With Oseberg H we take a huge technological leap forward. The fully automatic, unmanned and remote-operated platform is digitalization in practice, and I am proud of Equinor and its partners having chosen this in-house developed solution," says Anders Opedal, Equinor's executive vice president for Technology, Projects and Drilling.
The project was delivered at NOK 6.5 billion (2018 NOK), more than 20 percent lower than the cost estimate of the plan for development and operation (PDO). The breakeven price is reduced from $34 to below $20 per barrel, further strengthening a development that is already highly profitable.
Maintenance campaigns are to be carried out once or twice a year on the platform. While the Askepott rig is drilling wells through the platform, the maintenance personnel will stay on the rig. Afterwards the personnel will stay on a vessel hooked up to Oseberg H by a gangway.
"Oseberg H is the first platform of its kind on the Norwegian continental shelf (NCS), with no facilities, not even a toilet. The topside weighs only a good 1,000 tonnes, another example of simplification in practice. This platform only has the bare essentials," Opedal said.
The alternative to an unmanned wellhead platform would have been subsea wells. The new concept provides a competitive alternative in developing smaller discoveries.
"Oseberg H is a pilot and our first unmanned platform. We are further developing the concept and believe that the next version will be even more competitive," Opedal said.
The 11 wells on Oseberg Vestflanken 2 will be drilled by the Askepott jack-up rig owned by the Oseberg licence. Nine wells will be drilled through the Oseberg H platform and two through an existing subsea template. Pipelines and subsea equipment have also been installed.
The NCS operators have for a long time made considerable investments in a major infrastructure in connection with developing the big fields. Additional investments will yield a good return by phasing in smaller near-field oil and gas deposits through the existing infrastructure, and production of smaller volumes will be profitable while extending the field life and activity level of the big fields.
Even after 30 years of production Oseberg will play an important role on the NCS for decades to come, both as a major equity producer and as a hub for new additional volumes.