Trafigura's LNG Trade Soared in 2017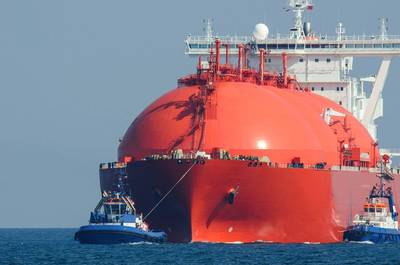 Commodities trader Trafigura grew liquefied natural gas

(LNGLF)

(LNG) traded volumes by 27 percent to 8.1 million tonnes of the super-cooled fuel this year after expanding its trading desk, aided by sharp Asian demand growth.
Swiss trading houses are expanding into the global market for LNG, until recently the preserve of energy giants, and expect to grab a $10 billion share of the business this year, delivering more than 8.5 percent of global supply.
Trafigura, the biggest independent trader of LNG by volume in 2016 at 6.4 million tonnes, this year extended its leading position, it said in its 2017 annual report.
Rivals, including Vitol,
Gunvor
and
Glencore
(GLCNF)
have not yet published their final 2017 LNG trade volumes.
Industry sources earlier this year expected Vitol to raise volumes to at least 7 million tonnes. Gunvor was to lift deliveries substantially above the almost 4 million tonnes it delivered in 2016.
"We expanded the global trading team to prepare for further growth and added strength in Singapore to reflect the increased geographical diversification of our LNG business and to sharpen our focus on the Asian market," it said.
The company also moved into developing infrastructure to meet emerging markets' appetite for gas with a minority stake in Pakistan's second import terminal, GasPort, and plans to set up another import project in the country.
It is also working on a floating storage and regasification unit (FSRU), or terminal, project at Teesside, north-east England.
"We expect these, along with the development of our natural gas trading activity in the U.S. and Europe, to help drive further growth in the coming years," it said.
Despite fears of oversupply, surging LNG output from plants in Australia, Angola and the United States collided with a steeper run-up in Far East demand for the fuel, especially in China, energising a vibrant spot traded market.
"This calendar year we have seen LNG supply rise 12 percent, while demand rose 13 percent," Trafigura said.
Spot LNG prices <LNG-AS> hit a three year high last week after breaking above $10 per million British units (mmBtu).
Reporting by Oleg Vukmanovic