TGS Boosted by Seismic Market Recovery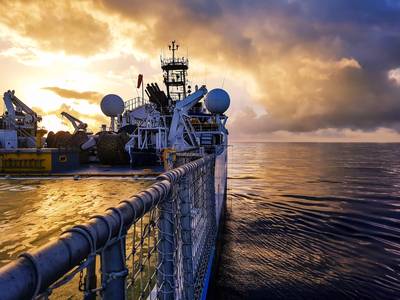 Q1 revenues rose by 56 pct; shares jump 13 pct.
Oslo-listed seismic data provider TGS, a key supplier to the oil industry, reported first-quarter revenues far above forecasts as markets continue to improve, it said on Tuesday, sending its share price surging.
Net revenues for the January-March quarter rose by 56 percent year-on-year to $135 million, beating the average $106 million forecast by analysts, according to
Thomson Reuters
estimates.
TGS, whose vessels scan the seabed for
potential oil and gas deposits
, said more than 85 percent of first-quarter revenues came from sales of previously collected data held in the company's extensive library.
"With all regions performing above our expectations, we see this as another sign of an underlying improvement in the market," Chief Executive
Kristian Johansen said
in a statement.
Shares in TGS surges 13.8 percent to 210 Norwegian crowns at GMT 0928, outperforming a 1.3 percent increase in the Oslo benchmark index, while peer Oslo-listed PGS rose by 6.6 percent.
"It's a sign that exploration activity is picking up supported by an oil price above $60 over a relatively long period and more confidence among oil firms," TGS Chief Financial Officer Sven Boerre Larsen told Reuters.
"The first quarter is also part of a new budget cycle for our clients. They are working on a different budget than in the fourth quarter," Larsen pointed out.
He said the first quarter started on a cautious note, and that March sales were very strong.
ABG Sundal Collier analyst John Olaisen said the sales numbers were extremely good, and supported the TGS share as one of ABG's top recommendations.
Competitor PGS meanwhile declined to comment on the market outlook, adding it was in a silent period ahead of first-quarter results on April 26.
TGS will announce full first-quarter earnings on May 9.
By Ole Petter Skonnord