Ten Things to Consider When Choosing Your Digital Twin Provider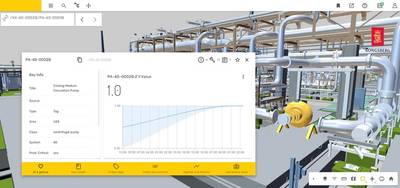 Kongsberg Digital's Brian Sidle identifies the top ten things to consider when choosing a provider for cloud-based digital twins in the energy sector.
---
The energy sector's heavy asset operators stand to benefit greatly from a cloud-based digital twin, but successful digital transformation initiatives can be elusive – especially when it comes to sustaining long-term performance improvements. Whether the digital twin journey is driven by the CTO, CFO, or others within an organization, the right partner can significantly increase the probability of success in managing the process of change.
Since digital transformation is top of mind for the industry, how can you be sure to select the right digital twin partner for your industrial asset? Based on Kongsberg Digital's extensive experience with global market leaders in the heavy asset industry who benefit from using a digital twin, we've discovered the top 10 things to keep in mind when selecting a provider.
1. Industry experience
Find a provider with the industry experience and technical competence to translate business needs into a successful and timely digital twin journey. They should demonstrate an understanding of the importance of successful OT and IT convergence, ensuring a solution that addresses existing systems' challenges and accommodates data migration and systems integration.
Look for: A history of outstanding performance in the same or adjacent industries and the flexibility to provide customized solutions.
The benefits: Quick wins early on by leveraging the provider's industry experience and familiarity with innovating, executing and engaging on a global scale.
2. ROI
Measuring the actual impact of an IT solution can be complicated and investments in new digital tools require meaningful engagement from stakeholders and decision-makers. There are several things to think about: tech support, subscription services, productivity enablement and, of course, the timeline for determining the return on investment (ROI).
To maximize potential ROI, carefully define initial business outcomes and workforce objectives. This helps contextualize and weigh up investment costs versus the cost savings and potential revenue improvements a digital twin brings.
Look for: Low implementation costs, wide flexibility and client use cases that showcase ROI.
The benefits: Easier and more defensible ROI calculations and avoidance of long-term licenses.
3. Scope of twin capabilities
What are the pain points that need to be addressed? As you vet suppliers, consider the capabilities offered versus the non-negotiables you need. Basic functionality should include:
Industrial business process and workflow orchestration
Data agnostic and able to ingest data from nearly any source, existing or potential
Document search and inspection
Live documents in the twin (including P&ID, datasheets, and isometrics – searchable)
Select tags and visualize all associated types of data
3D and 360 photogrammetry visualization
The ability to easily integrate with current, relevant technologies and other third parties
Emissions management
Interoperability with leading productivity toolsets
Analytical dashboards
Simulator integration
Look for: A digital twin with out-of-the-box functionality, allowing you to immediately harvest low-hanging fruit.
The benefits: Utility from day one, and relevant features for more efficient and greener operations.
4. Scalability
Digital twin technology should be scalable across a facility and to any number of assets globally. Doubtless, your asset base will change due to new energy investments or improved conventional ones. The twin should be scalable in terms of onboarding and training limitless simultaneous users while remaining future proof against ever-growing amounts of data points such as IIOT and real-time sensors.
Look for: An agnostic provider that can ingest any type of data source and construct a plant-wide 3D model of any asset, in any location.
The benefits: A long-term solution that scales and matures alongside your asset, enhancing your ability to support the circular economy.
5. Focus on net-zero ambitions
There is growing momentum for cleaner and greener energy as sustainable development and net-zero goals intensify. Digital twin technology can help manage and reduce emissions to move towards carbon neutrality through reporting capabilities that benchmark and deliver vital emissions information.
Look for: Built-in features that enable you to view, analyze and initiate emissions reduction.
The benefits: Regulatory adherence, optimization in line with net-zero commitments and the ability to design future assets for increased performance and lower costs.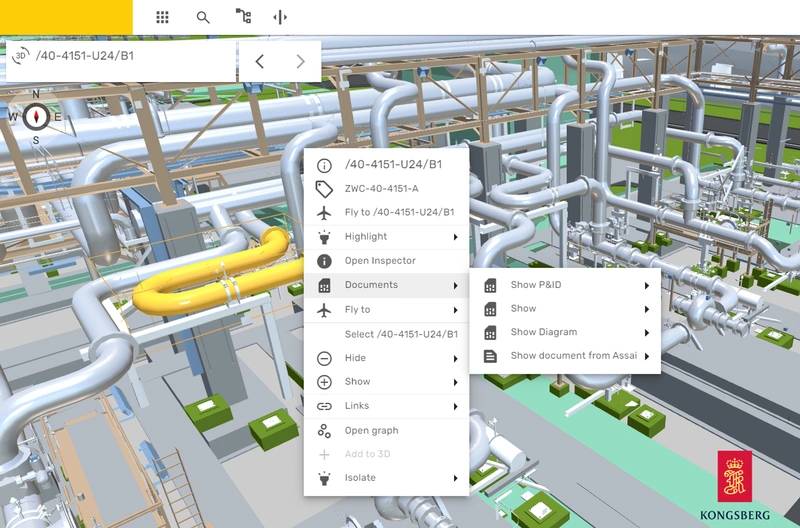 © Kongsberg Digital
6. Advanced analytics
Beyond providing metrics and static analysis, digital twins today can harness advanced analytics to turn data into valuable insights – even when data is missing or incomplete as it can be supplemented by simulated data. A digital twin infused with hybrid machine learning and simulation can help:
Test different what-if scenarios before operations
Prove optimization proposals without posing a risk to people, equipment or the environment
Lower maintenance costs through condition-based monitoring and predictive maintenance insights
Look for: Support for real-time views, a solution that suggests performance improvements and the ability to run what-if scenarios ahead of execution.
The benefits: Increased efficiency, safer operations and increased throughput.
7. Digital sustainability

The software infrastructure should be built in such a way that allows operators to retain data ownership. Digital twin sustainability can be strengthened by providers that use standard and open APIs which in turn enable operators to use vendors in an interoperable fashion for information exchange, cross-functional work execution and innovation.
Look for: Open APIs, an out-of-the-box offering paired with a progressive product roadmap and a solid vision for future development.
The benefits: A fully functional yet constantly improving solution that enables market readiness.
8. Partner-enabled ecosystem
Interoperable digital twins can enable cross-system workflow execution and data transfer. For the energy industry, this creates an ecosystem where customers can leverage industry partnerships and work towards common objectives that enhance industrial digitalization. A partner-enabled ecosystem helps avoid lock-in vendors and spurs innovation at scale.
Look for: A global digitalization leader that accommodates existing applications as data sources for the twin and supports industry-wide improvements and initiatives.
The benefits: Extended twin utility and flexibility to integrate and innovate.
9. Service delivery
A digital twin solution is not a one-time deployment and moves beyond a typical supplier-vendor relationship to unlock the greatest possible value. Providers should allow customers to define their path while supporting them with the technology, training and experience needed to realize their vision.
Look for: An engaged provider that champions communication and creates human-centric technology.
The benefits: Stakeholder and user satisfaction; true digital transformation.
10. The X Factor
Every company has its competitive edge. Ask digital twin providers what differentiates their offering and position in the market. If it meets or exceeds your needs and gives you that competitive edge…X marks the spot!
Look for: A digital twin provider that demonstrates its unique value proposition.
The benefits: Understand the provider's differentiator.
About the Author: Brian Sidle is Director of Growth at Kongsberg Digital – a next generation provider of software and digital solutions. He has a 25-year track record in the oil and gas industry with extensive experience in digital transformation, upstream operations and product development.