Teledyne Bags OTC Technology Award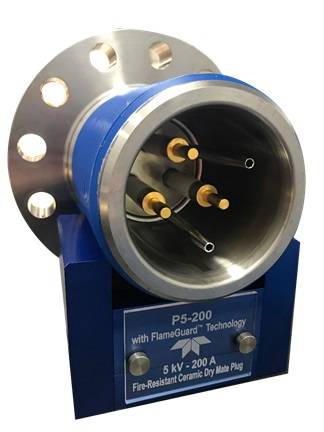 Teledyne Marine was recognized by the Offshore Technology Conference (OTC) with a 2018 Spotlight on New Technology Award for the FlameGuard P5-200.
Each year, OTC recognizes innovative technologies
with the Spotlight
on New Technology Award, which showcases advanced solutions that will lead the industry into the future.
The FlameGuard P5-200 is a flame-proof ceramic electrical penetrator for use as part of the fire resistant envelope of an offshore surface wellhead and Christmas tree system. The penetrator is a key technology element in a 5 kV electrical feedthrough system that provides three-phase power to downhole electrical submersible pumps (ESPs) in offshore dry trees. The penetrator is rated as fire resistant in accordance with API 6FB, Part II.
"With this penetrator and feedthrough system, Teledyne Marine continues the tradition of developing interconnect technology for the harshest of conditions," said Rich Jones, VP of New Product Development. "Our experience in the subsea environment allows us to easily develop and qualify components for adjacent markets like topside systems with similarly challenging operational requirements."
The ceramic material was developed by the New Product Development team at the Teledyne Oil & Gas Technology Development Center, in partnership with the advanced materials scientists at Teledyne Scientific, in response to customer demand for a fire-resistant, downhole electrical penetrator.
"Teledyne Scientific has a long history of developing highly reliable solutions for the most extreme environments in
aerospace
, defense, and commercial applications," said Mike Read, president of Teledyne Marine. "We were able to draw upon their expertise to select and qualify the materials and processes that give the penetrator its unique features."