South-Khadyryakhinskoye Gas Flows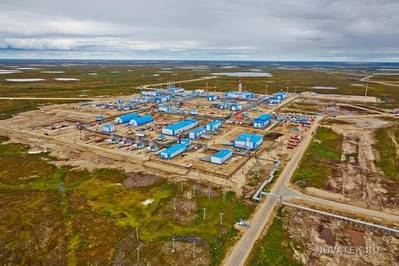 Russian largest independent gas producer and LNG player Novatek (NVTK.ME) has begun commercial production at the South-Khadyryakhinskoye gas field, whose capacity is estimated at about 1 bcm of natural gas per year.

"The South-Khadyryakhinskoye field is located in close proximity to the Company's existing infrastructure, which allowed us to quickly commence initial gas production and optimize the field's capital costs," said Novatek's Chairman of the Management Board Leonid Mikhelson.

"The new gas production capacity will contribute immediately to incremental growth in our domestic natural gas production connected to the United Gas Supply System," he added.

The South-Khadyryakhinskoye field is located in the Purovsky district of the Yamal-Nenets Autonomous Region.

Novatek-Tarkosaleneftegas holds the field's license for the exploration and production, which was acquired in December 2017. As of 31 December 2018, the field's reserves under the Russian reserves classification totaled about 28 billion cubic meters of natural gas.