Sinopec to Boost Gas Supply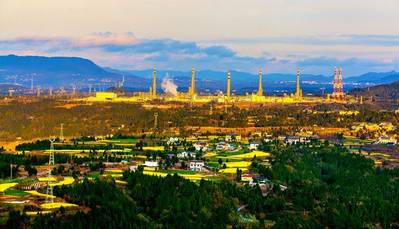 Chinese state oil major Sinopec said on Monday it will supply 18.17 billion cubic meters (bcm) of natural gas during the heating season that kicks off this week, up 17.7 percent from last year, to meet rising demand in the world's fastest-growing gas consumer.
The company's natural gas supply to seven northern provinces and cities will increase by 29.1 percent during the season, it said in a statement.
The comments come as China prepares to switch on residential heating systems across the north of the country on Nov. 15, with millions more households set to rely on gas rather than coal.
A government gasification campaign last year led to a shortage of supplies, driving prices to record levels and leaving some residents without heating.
Demand for natural gas will increase sharply again this winter and next spring, said Sinopec, adding that extreme weather in winter will increase the difficulty of supply.
The company said it has increased its spot purchases of liquefied natural gas (LNG) and each of its three LNG terminals are due to run at full capacity, with receiving capacities already fully booked for December and January.
It has also filled two of its gas storage sites and is accelerating construction of an additional facility allowing it to meet emergency demand during the heating season.
It is expected to have more than 4 bcm of storage capacity when completed.
It is also speeding up the construction and operation of new pipelines in northern provinces.
Sinopec group has said it wants to more than double its receiving capacity of LNG over the next six years and lift domestic shale gas production by two thirds by 2020 in a bid to make clean fuel account for half of its energy supply by 2023.
(Reporting by Beijing Monitoring Desk and Dominique Patton; Editing by Tom Hogue and Rashmi Aich)