SEA\LNG Expands Membership in U.S.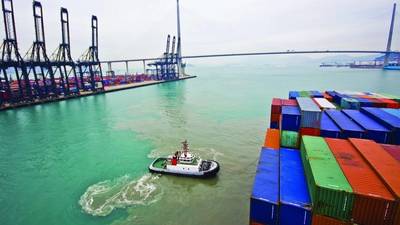 Houston-based Stabilis Energy has joined SEA\LNG, the multi-sector industry coalition which is seeking to accelerate the widespread adoption of liquefied natural gas (LNG) as a marine fuel.

Commenting on the development, Peter Keller, Chairman, SEA\LNG, said: "Welcoming Stabilis Energy as a new member demonstrates SEA\LNG's continued commitment within the ever expanding North American LNG market. LNG is growing in importance in both the energy and marine bunkering markets. Stabilis operates at the forefront of this expansion."

Stabilis Energy provides small-scale LNG production, distribution and fuelling services to multiple end markets in North America. It owns and operates a liquefaction and storage facility in George West, Texas, as well as a fleet of over 150 pieces of cryogenic rolling stock equipment throughout North America. Stabilis supplies LNG for use in the industrial, mining, energy, utility, pipeline, and transportation end markets, as well as marine bunkering services.

Jim Reddinger, President and Chief Executive Officer at Stabilis Energy said: "LNG is an increasingly important part of the marine bunkering infrastructure throughout North America and across the globe. We specialise in producing LNG and delivering it to its last port of call, as it were, where it is ready for transfer to ocean-going vessels. As members of SEA\LNG we look forward to supporting this integral part of the growing LNG bunkering network throughout North America and beyond."

To help fund growth plans and operating presence, as well as investments in LNG production and distribution, Stabilis has recently completed a number of initiatives, including a public listing on the Nasdaq stock exchange (ticker symbol: SLNG), investment from Chart Industries, a leading global supplier of LNG production and distribution equipment, and two strategic transactions in Mexico.

Peter Keller continued: "Communication and collaboration across the LNG value chain is essential to breaking down barriers to the adoption of LNG as an important and economically viable marine fuel. It is encouraging to see Stabilis Energy engaging with its partners to strengthen the small-scale LNG network. We look forward to working with them to expand LNG bunkering infrastructure in the Americas."

SEA\LNG brings together key players in the marine value chain, including shipping companies, classification societies, ports, major LNG suppliers, LNG bunkering companies, infrastructure providers and OEMs (original equipment manufacturers), advocating for cooperation and knowledge-sharing to build confidence in LNG as a commercially viable and environmentally sound marine fuel for 2020 and beyond.