Schlumberger to Buy Cameron in $14.8 Bln Deal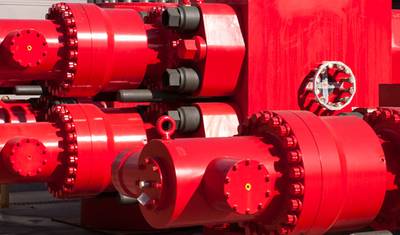 Schlumberger Ltd will buy oilfield equipment maker Cameron International Corp in a deal valued at $14.8 billion to streamline supply chains and offer cost-effective services to oil and gas customers who have slashed budgets.
The deal is the latest in a line of mergers in the energy industry as companies struggle to cope with a 60 percent plunge in global crude oil prices since June last year.
Most oil and gas producers, including oil majors
Royal Dutch Shell PLC
(RYDAF)
and
Total SA
(TTFNF)
, have drastically cut spending, which has hurt demand for oilfield services companies.
Schlumberger, the world's No.1 oilfield services company, has cut 20,000 jobs this year alone and lowered its capital budget to maintain margins.
The company, whose services range from surveying a site to drilling wells, will now get access to Cameron's products such as blowout preventers and valves that control pressure in wells.
Cameron's shares rose nearly 44 percent to $63.14, below
Schlumberger
(SLB)
's $66.36 per share cash-and-stock offer, in early trading on Wednesday. Schlumberger's shares fell 3.5 percent to $70.02.
The two companies had created a joint venture in November 2012 for deepwater drilling.
"The deal should allow a more complete solution to customers and should allow SLB to grow market share," said BMO Capital Markets analyst Daniel Boyd. "Smaller companies offering discrete products and services will likely be at a disadvantage going forward."
Schlumberger's closest rivals Halliburton Co and Baker Hughes Inc agreed in November to merge in an effort to contain costs.
That deal has run afoul U.S. antitrust enforcers who believe the $35 billion-merger could lead to higher prices and stifle innovation, according to Reuters sources.
Whether Schlumberger's bid for Cameron will raise similar concerns remains to be seen.
Given the two companies had "very little product/service overlap", the deal should get regulatory approval smoothly, Daniel Boyd BMO Capital Markets wrote in a note to clients.
Schlumberger and Cameron's combined pro-forma revenue would have been $59 billion in 2014, Schlumberger said.
Schlumberger's offer values Cameron at $12.74 billion, based on the company's diluted shares as of June 30. Cameron shareholders will get $14.44 in cash and 0.716 of a Schlumberger share for each share held.
Schlumberger said it expects the deal to add to earnings by the end of the first year after the deal closes.
Goldman Sachs & Co is Schlumberger's financial adviser and Baker Botts LLP and Gibson Dunn & Crutcher LLP are its legal counsel. Cameron's financial adviser is Credit Suisse and Cravath, Swaine & Moore LLP is its legal counsel.
(By Sneha Banerjee and Shubhankar Chakravorty; Editing by Savio D'Souza and Sayantani Ghosh)