Repsol Buys Stake in Norway's Mikkel Field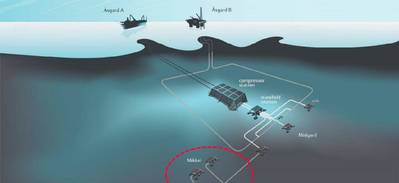 Repsol has reached an agreement with Total to acquire its 7.65% stake in the producing Mikkel field, in the eastern part of the Norwegian Sea.
The Mikkel field is a gas and condensate reservoir located 35 kilometers south of the Midgard deposit on Equinor's Åsgard field in the Norwegian Sea. In 2017, it achieved an average production of 47,075 barrels of oil equivalent a day.
Following the acquisition, Repsol will become part of the Mikkel field's operating consortium, which will be composed of operator Equinor Energy AS, with a 43.97% share, ExxonMobile Exploration and Production AS, with 33,48%, Vår Energi AS, with 14.9% and Repsol Norge AS with the remaining 7.65%.
Water depth in the area is 220 meters. Mikkel was discovered in 1987, and the plan for development and operation (PDO) was approved in 2001. The field is developed with two subsea templates tied-back to the Åsgard B facility. Production started in 2003.
Mikkel produces gas and condensate by pressure depletion from Jurassic sandstone in the Garn, Ile and Tofte Formations. The field consists of six structures separated by faults, all with good reservoir quality. It has a 300-meter thick gas/condensate column and a thin underlying oil zone. The reservoir depth is 2,500 meters.
The well stream from Mikkel is combined with the well stream from the Midgard deposit and routed to the Åsgard B facility for processing. The condensate is separated from the gas and stabilized before being shipped together with condensate from the Åsgard field. The condensate is sold as oil (Halten Blend). The rich gas is transported via the Åsgard Transport System (ÅTS) to the Kårstø terminal for separation of the natural gas liquids (NGL). The dry gas is transported from Kårstø to continental Europe via the Europipe II pipeline.

With the acquisition, Repsol has a working interest in 30 production licenses in Norway and currently produces around 32,000 barrels of oil equivalent per day in the country.
Repsol reached an agreement with Total in early 2018 to acquire a 7.65% stake in the Visund field, and is also moving forward on the Yme field development, that is expected to start produce in second quarter of 2020.
In 2015, Repsol added the Blane, Gyda, Rev, Yme and Varg operated assets in Norway. The company is also a partner in the Brage, Gudrun, Visund, Huldra, Veslefrikk, and Tambar East fields.