PGNiG's LNG Imports Rises in 2018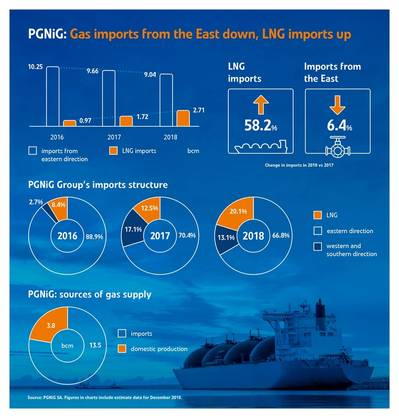 Polish energy firm PGNiG said that the share of gas imports from Russia in total import volume fell last year to less than 67%. The share of LNG imports, however, increased to over 20%.

In 2018, PGNiG imported over 0.62 bcm less natural gas from Russia than in 2017 (down 6.4%). Imports from the East amounted to approx. 9.04 bcm, as compared to approx. 9.66 bcm in 2017.

LNG imports to Poland through Swinoujscie terminal rose 58% year on year to 2.7bcm of natural gas equivalent amid more deliveries from Qatar.

"LNG imports (from Qatar, Norway and the USA) in 2018 increased by nearly 1 bcm (+58.2%) and reached over 2.71 bcm (after regasification), comparing to 2017, when approx. 1.72 bcm of LNG was imported (after regasification)," it said.

Consequently, in 2018, imports from the eastern direction accounted for 66.8% of the entire PGNiG import volume (against 88,9% in 2016).

LNG imports accounted for over 20% of the import volume (in 2016 – 8,4%). The remaining volume is covered by imports from the western and southern directions.

Throughout 2018, PGNiG imported approximately 13.53 bcm of natural gas to Poland. According to the domestic forecast production totalled 3.8 bcm.

"The take or pay clause in the Yamal contract signed in the mid-1990s obliges PGNiG to pay Gazprom until the end of 2022 for approximately 85% of the contracted volumes of gas, regardless of whether we bring them to Poland or not," said Maciej Woźniak, PGNiG's Vice-President for Commercial Affairs.

PGNiG has been successfully implementing its strategy of reducing the dependence on a single dominant supplier. In addition to the expansion of the LNG portfolio, the Company is preparing to start supplying the Polish market with gas produced on the Norwegian Continental Shelf, following the launch of transmission via the Baltic Pipe interconnection through the North Sea, Denmark and the Baltic Sea at the end of 2022.

The rapid increase in imports of liquefied natural gas in 2018 is primarily the effect of the additional agreement with Qatargas signed of 2017. After 2020, annual imports from Qatar may even reach 2.7 bcm after regasification.

Moreover, already in 2019 the first LNG deliveries from Cheniere will reach Poland under long-term contracts concluded in 2018 with suppliers from the USA. Thanks to contracts for the purchase of American LNG, in the years 2023–2042, PGNiG will have an incremental yearly portfolio of over 7.3 bcm after regasification (approx. 5.5 million tonnes of liquefied gas).