Oil Firms, on Track for Biggest Gain in Five Weeks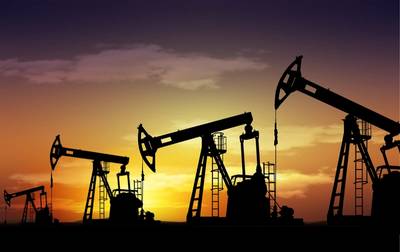 U.S. oil inventories fell by more than forecast last week; OPEC-led production curbs expected to be extended.
Oil prices on Friday were on track for their biggest weekly gain in five weeks, helped by expectations of an extension of OPEC-led output cuts and buoyed by falling U.S. crude inventories.
Benchmark Brent was trading 5 cents higher at $50.82 per barrel at 1141 GMT, on target for a 3.5 percent rise on the week. U.S. light crude oil was up 2 cents at $47.85.
A larger-than-expected fall last week in U.S. crude inventories <C-STK-T-EIA>, which dropped 5.3 million barrels, suggested cuts by the Organization of the Petroleum Exporting Countries and other producers were tightening the market, analysts said.
OPEC members and other producers including Russia pledged to reduce their output by almost 1.8 million barrels per day (bpd) in the first half of the year, but the impact of the initiative has been slow to show up in global inventory data.
"The (U.S. crude) inventories turned the heads of market participants towards the more positive side of things," said Eugen Weinberg, Commerzbank head of commodities research.
"But nevertheless the problem remains that the oil supplies are still there, the overcapacity is still there, the stocks are still quite high," he added.
OPEC and other producers meet on May 25 to decide whether to extend cuts. Saudi Arabia, OPEC's de-facto leader, has said it expects an extension to the end of 2017 or possibly beyond.
Commerzbank said in a note it was sceptical about OPEC's ability to support prices in the long term.
"Owing to the rapid recovery in U.S. oil production OPEC obviously only has limited influence on prices via supply curbs," it said, adding an extension "is unlikely to be more successful than the cuts implemented so far in the longer-term."
U.S. crude production <C-OUT-T-EIA> has risen more than 10 percent since its mid-2016 trough to more than 9.3 million bpd, close to the levels of top producers Russia and Saudi Arabia.
A weekly report by Baker Hughes monitoring U.S. rigs drilling for new production is due on Friday. <RIG-OL-USA-BHI>
Norwegian consultancy Rystad Energy said U.S. output had gained "significant momentum". Excluding Alaska and Hawaii, it said output from the other 48 states would expand by 390,000 bpd from May 2017 to December 2017 assuming a U.S. light crude price of $50.
By Stephen Eisenhammer