US Oil Drillers Cut Rigs for 2nd Week in Three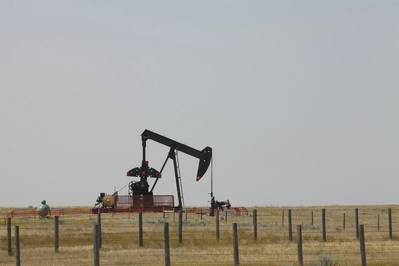 U.S. energy firms cut the number of oil rigs for the second in three weeks, slowing the pace of a 15-month drilling recovery, amid plans to spend less in reaction to declines in crude prices over the past several months.
Drillers cut one oil rig in the week to August 4, bringing the total count down to 765, General Electric Co's
Baker Hughes energy
services firm said in its report on Friday.
There were 381
active oil rigs during
the same week a year ago. Drillers have added rigs in 55 of the past 62 weeks since the start of June 2016.
The rig count is an early indicator of future output.
U.S. crude production in May hit a 16-month high on gains in Texas and offshore in the Gulf of Mexico, according to federal energy data this week.
Those output gains have pressured crude prices lower in recent months, prompting several exploration and production (E&P) companies this week to announce cuts to their future spending plans, including Devon Energy Corp, Diamondback Energy Inc, Marathon Oil Corp and Rice Energy Inc.
Those companies and others had mapped out ambitious spending programs for 2017 when they expect U.S. oil prices to be higher than the current $49-per-barrel range.
Despite recently announced spending cuts, the E&Ps still plan to spend much more this year than last year.
Analysts at U.S. financial services firm Cowen & Co said in a note this week that its capital expenditure tracking showed the 64 E&Ps it follows planned to increase spending by an average of 50 percent in 2017 from 2016.
That expected increase followed an estimated 48 percent decline in 2016 and a 34 percent decline in 2015, Cowen said.
Cowen said the total U.S. count, including both oil and natural gas rigs, is expected to decline through 2017 and 2018. Most wells produce both oil and gas.
The current U.S. oil and gas rig count is 954, according to Baker Hughes. That compares with an average of 509 in 2016 and 978 in 2015.
(Reporting by Scott DiSavino; Editing by Grant McCool and Paul Simao)