Offshore Wind Farms the Future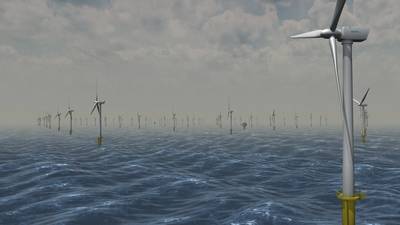 Statkraft predicts far more offshore wind farms
Turbines, dams must be more robust for extreme weather
Firm developing world's biggest wind park in North Sea
Wind farms will be built more and more in shallow seas, from China to the United States, as the industry imitates oil firms and moves offshore, the head of Europe's largest generator of renewable energy said on Tuesday.

Statkraft Chief Executive Christian Rynning-Toennesen also said climate change was forcing a rethink of hydro-electric dam and wind turbine design to ensure they could withstand ever more extreme rainfall and wind linked to global warming.

Oslo-based Statkraft, which operates in 20 nations, generates about 55 terawatt-hours (TWh) annually and is Europe's top producer of hydro power. The company is a also part of a consortium developing Dogger Bank, the world's biggest offshore wind power park in the British sector of the North Sea.

Rynning-Toennesen told the Reuters Global Climate Change Summit that the world would have to step up the generation of wind, solar, hydro and other renewable power to meet a U.N. goal of limiting global temperature rises to below 2 degrees (3.6 Fahrenheit) above pre-industrial times.

"If we are going to do something significant with climate change we will have to put solar panels on the rooftops of most of the buildings in the world, and we need to put windmills on the shallow waters offshore."

Average world surface temperatures have already risen by about 0.85 C (1.5F) since the Industrial Revolution, mainly because of a build-up of man-made greenhouse gases, the U.N. panel of climate experts says.

Rynning-Toennesen predicted far more offshore wind farms, particularly in the United States and China.

"It is like the oil industry ... It started onshore, and now is creeping into the shallow waters, and in the long-term it would be floating," he said.

Power from offshore wind farms costs twice the amount of wind power generated onshore, but sea winds are stronger and more stable -- and there is less opposition from people who object that turbines on land are eyesores.

Onshore Norway
In Norway, state-owned Statkraft plans to build about 1,000 MW of onshore wind power by 2020, and these plans got a boost from the government's pledge in its 2014 budget last week to adjust depreciation rules.

"This is increasing the likelihood that we will have a profitable project," he said.

Building more wind power in Norway is crucial to meet a joint goal with Sweden to produce an extra annual 26.4 TWh of renewable power by 2020 compared to 2012 levels.

Global warming will mean more extreme winds, and turbines must be more robust. Hydro power producers, especially in Europe's flatlands, would have to invest significantly to build dams able to withstand torrential rains, said Rynning-Toennesen.

In many parts of the world, including Norway, Statkraft saw a "need to strengthen dams with significant amount of investments because we need to withstand much more extreme rainfalls in the future," he said.

He declined to estimate the extra costs.

The need to invest in dams was more acute in European flatlands, where rivers are not prepared to absorb huge amounts of water falling at once.

He said Statkraft was wrestling with different challenges in Chile, where there was too little water for its hydro power because the climate had turned much drier than expected.

The North Sea area where Statkraft is developing the world's biggest wind park was dry land thousands of years ago, making it possible to walk almost all the way from Norway to England.

Rynning-Toennesen said archaeologists will examine the base of planned turbines to check for any Stone Age remains on the seabed. The North Sea formed when huge ice caps melted after the end of the Ice Age, about 11,000 years ago.
(By Nerijus Adomaitis and Alister Doyle, Editing by David Clarke)