Non-Opec Supply Set to Surge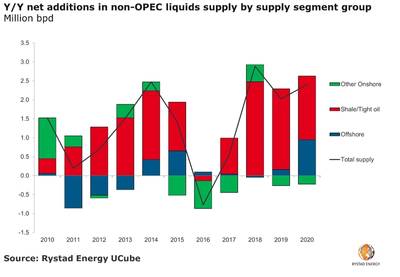 Liquid production growth for non-OPEC countries reached the highest rate on record in 2018, with a growth of almost 2.9 million barrels per day (bbl/d).

For this year, the trend suggests that non-OPEC countries' liquid production will reach above 2 million bbl/d once again, led by tight oil.

Rystad Energy expects liquid production growth of non-OPEC countries will continue reaching record highs in 2020. However, despite strong tight oil production, offshore will have a much greater role on the market next year.

Growth in offshore production from Norway and Brazil will bring the total offshore supply close to 1 million bbl/d. This will therefore be the third consecutive year to deliver liquid a production growth of more than 2 million bbl/d.

Meanwhile, the International Energy Agency (IEA) also said that an unexpected surge in crude oil production from non-OPEC nations at the end of this year and next will continue to pressure prices and dent demand for supply from OPEC.

While OPEC-led crude output curbs since 2017 have helped reduce global inventories, rising production outside the so-called OPEC+ group could return the market to oversupply in the face of flagging demand, the Paris-based agency said in its latest monthly report.