New Phase of Antipiracy Project in Somalia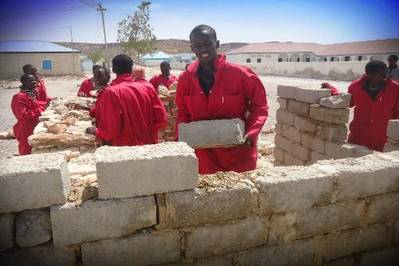 The Joint Shipping Initiative - made up of Shell, BP, Maersk, Stena and Japanese shipping companies NYK, MOL and "K" Line - has announced it has given$1.5 million of additional funds to a United Nations Development Program (UNDP) project to improve the lives of Somalis and security for seafarers.

The UNDP's "Alternative Livelihoods to Piracy in Puntland and Central Regions ofSomalia" project aims to reduce piracy off the coast of east Africa through local economic development, job creation, training, and business development grants on-shore in one of the world's poorest countries.

"Development projects that provide an alternative livelihood to would-be pirates are a vital element of the long-term solution to piracy," Dr Grahaeme Henderson, Vice President of Shell Shipping & Maritime, said. "We have been very encouraged by progress so far and look forward to positive results from this new phase of work."

A lack of jobs and legitimate business opportunities for young people helps Somali pirate leaders to attract recruits for attacks on merchant shipping that cost the international community billions of dollars a year.

By offering alternative livelihood options to these youth, UNDP and the Joint Shipping Initiative work to prevent the lure of piracy.

"Somalia has one of the world's highest rates of youth unemployment. Nearly 67% of young people are unemployed. To reverse this reality, we work with local authorities and community groups to identify sustainable solutions - such as infrastructure projects, livelihoods trainings, or reintegration projects - and tailor our support to match the need," stated UNDP Somalia Country DirectorGeorge Conway.

Initiated by Shell in 2013, the Joint Shipping Initiative's first donation of $1 million helped expand the market building in Adado - a town in central Somalia - creating hundreds of jobs for retailers and better sales options for farmers. It also helped improve vital infrastructure, including building a road to link the isolated Hafun peninsula with the rest of the country - a project that generated hundreds of temporary jobs. The road also helps expand opportunities for trade and business, increasing access to communities in the Hafun peninsula.

In addition, training courses in skills such as computing, plumbing, building and clothes-making have been set up elsewhere to help young Somalis find work, or set up businesses themselves with the help of small grants.

Today's additional funding meets the Joint Shipping Initiative's 2012 pledge to donate a total of$2.5 million to UNDP's development efforts in Somalia. It will allow UNDP to start work in the towns of Alula and Bargal, near the tip of theHorn of Africa, and Balanbal in central Somalia.

"Piracy is a global problem that takes root in limited economic opportunities, high youth unemployment rates and poor infrastructure,"Jens Munch Lund-Nielsen, Head of Emerging Markets Projects in Group Sustainability, Maersk, said. "The problem requires a land-based solution."