UK Mulls Revisiting Oldest North Sea Blocks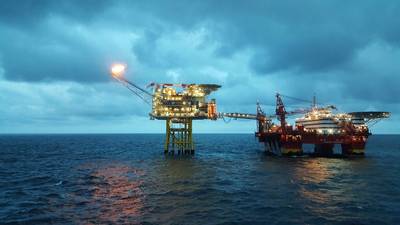 Britain wants oil and gas drillers to recover pockets of gas that are more difficult to reach in a part of the North Sea where drilling for fossil fuels started over 50 years ago.
Britain's oil regulator, the Oil and Gas Authority (OGA), said on Thursday that some 3.8 trillion cubic feet (tcf) of tight gas remain in the southern North Sea, one of the world's oldest offshore gas extraction areas that has produced more than 40 tcf.
Drilling activity in Britain's North Sea has been at a record low for two years as weak oil prices make projects less attractive.
The basin is estimated to have billions of barrels of oil left for extraction, worth around 200 billion pounds ($250 billion) for British government coffers, which the government is keen to see developed.
The regulator on Thursday published an eight-step programme it wants oil companies to follow to tap the southern North Sea tight gas deposits, which were traditionally unpopular among explorers because they were difficult to access and therefore more expensive to develop.
Tight gas deposits sit in less permeable stone, such as sandstone, and are part of the unconventional type of reservoirs like shale gas or coal bed methane.
New technologies allowing extraction in less permeable geologies and efforts by explorers to share equipment mean tapping these resources is now more economic.
"Maximising recovery of tight gas represents a real opportunity to extend the life of the southern North Sea's existing infrastructure," said Eric Marston, the OGA's area manager for the southern North Sea.
Companies exploring for gas in the southern North Sea are supportive of the regulator's push to develop tight gas projects and are making plans to drill new wells.
"It's clear that there is still a lot the industry can do to maximise the potential of one of the most mature regions of the North Sea," said Fraser Weir, North Sea director at
Centrica
(CPYYY)
, one of the companies active in the area.
The
energy company
said it managed to reduce costs at one of its prospective gas fields, Pegasus, by 25 percent partly by finding ways to share some of the equipment with other companies.
Centrica will later this year decide whether to proceed with the project.
Oil explorer
Premier Oil
(PMOIF)
is also assessing whether to invest in developing a huge gas field in the area, Talmount, which it said could contain up to 1 tcf of gas.
Reporting by Karolin Schaps