LNG Over-Supply Narrative Still Valid?: Russell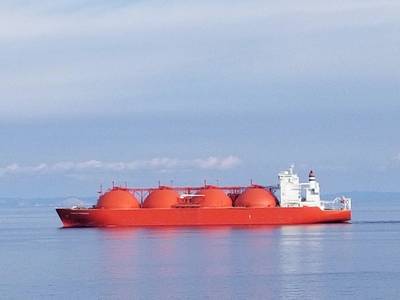 Liquefied natural gas (LNG) is supposed to be a deeply over-supplied market, but it doesn't appear to be behaving as such in the major consuming region of Asia with strongly rising prices amid robust demand growth.
In fact LNG currently looks much more like an under-supplied market, where spot buyers are forced to bid more for increasingly difficult to source cargoes ahead of the peak winter demand period in the northern hemisphere.
It may well be the case that the current increase in the Asian spot price <LNG-AS> is the last hurrah before new supply does indeed swamp demand growth.
However, it's worth noting that so far the LNG market has proved remarkably resilient to forecasts of a supply-driven price slump, as demand growth has surprised to the upside.
Asian spot prices ended last week at $9.45 per million British thermal units (mmBtu), up 75 percent since the 2017 low of $5.40 in mid-April.
The price is also not far below the $9.75 peak from last winter, reached in the first week of this year.
While seasonal rallies and declines are a feature of spot LNG pricing in Asia, if the market was truly over-supplied, it would be logical to expect that the winter gains would be more muted than they have been.
Vessel-tracking and port data compiled by
Thomson Reuters
Supply Chain and Commodity Forecasts also show just how robust demand growth has been so far in 2017.
In the first 10 months of the year, 242.1 million tonnes of LNG was delivered by the seaborne market, up 10.3 percent from the 219.5 million in the same period in 2016.
Of that, 141.3 million tonnes was supplied to North Asia, which includes top buyers Japan, South Korea and China, an increase of 12.8 percent on the 125.3 million in the first 10 months of last year.
CHINA THE STAR PERFORMER
Much of the growth in Asia has been down to China, which imported 28.8 million tonnes of LNG in the first 10 months of the year, according to the vessel-tracking data.
This is 45 percent more than the 19.8 million tonnes China bought in the same period in 2016, underscoring just how successful the country's efforts have been to expand the use of natural gas in a bid to limit air pollution from burning coal.
Much of the growth in China's natural gas consumption has been to replace the burning of coal in industrial applications, such as the manufacture of ceramics and cement, as well as replacing coal-fired boilers in residential apartment blocks.
Several years ago, just as Australian and U.S. LNG developers started investing billions of dollars in at least 14 new projects, there were numerous forecasts for China's LNG demand to reach 60 million tonnes per annum.
However, Chinese demand showed only modest growth, leading to a scaling back of expectations.
But it now appears that the original forecasts may have been accurate, especially given the ongoing push by the authorities in Beijing to use cleaner forms of energy.
The strength of Chinese demand, coupled with other emerging imports in Asia such as Sri Lanka, Pakistan and Bangladesh, may mean that expectations for sustained over-supply of the super-chilled fuel prove too pessimistic.
Add this to the scenario that major exporters such as Australia, Indonesia and Malaysia are also likely to become importers due to the vagaries of their domestic natural gas markets, and a picture of a tighter-than-forecast LNG situation becomes more likely.
There is still a substantial amount of LNG capacity to come on line in the next couple of years, mainly in Australia and the United States.
In Australia,
Chevron
(CVX)
's 8.9 million tonnes a year Wheatstone project is in its commissioning phase, while the 3.6 million tonne capacity Prelude floating LNG facility, operated by Shell, and the 8.9 million tonne Ichthys venture by Japan's Inpex are due to start production next year.
Dominion Energy's Cove Point LNG terminal in the U.S. state of Maryland is in its commissioning phase and may ramp up to its 5.9 million tonnes a year capacity in 2018, adding to the near 20 million tonnes of annual capacity from the
Cheniere Energy
(LNG)
facility at Sabine Pass in the Gulf of Mexico.
Another three U.S. LNG export plants are slated to start later in 2018, with much of their production looking to find buyers in Asia.
The market expectation up until now is that all this new supply will outweigh demand growth, which may well still be the case.
But it may also be time to start asking the question as to whether expectations of demand growth have been too modest, especially in light of the appetite of China and other Asian countries for LNG.
By Clyde Russell