LNG Bunkering to Grow at CAGR of 62.50% CAGR to Reach $247bn in 2023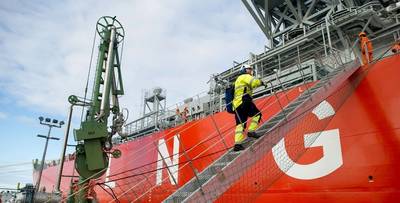 The global liquefied Natural Gas (LNGLF) (LNG) bunkering market is expected to witness a CAGR of 62.5% over the forecast period 2017-2023, and is projected to reach USD 24,684.7 million by 2023.

The key factors driving the growth of LNG bunkering market are increase in LNG demand in order to reduce the carbon footprint in the shipping industry stringent international emission policy, the best cost- effective alternative fuel and significant rise in government initiatives supporting LNG adoption.

According to a research report from Energias Market Research, the ferries and offshore service vessel will dominate the LNG bunkering market during the forecast period.

Europe with a market share of 85.0% of market share is currently dominating the LNG bunkering market due to the presence of a majority of LNG bunkering stations in the region. Norway, with the largest number of bunkering operations dominates the LNG bunkering market in the European region.

Asia-Pacific region backed by high marine trade is expected to grow at the fastest rate during the forecast period.

The LNG bunkering market in North America is expected to be benefited owing to the decline in natural gas price in the region

Qatar, in Middle East and Africa region is expected to make a good business in the LNG bunkering market owing to the abundance of LNG in the region.

As of March 2017, there are approximately 104 LNG-fuelled ships in operation and approximately 109 LNG-fuelled ships to come.

In 2015, Gasum acquired a 51% share in Skangas pushing Gasum into the lead spot in Nordic LNG.

The key companies dealing in LNG bunkering market are Skangas, Gazprom Neft (SIBN.ME) PJSC, Royal Dutch Shell (RYDAF) Gasum, KLAW LNG, Korea Gas Corporation, ENN Energy Prima LNG, Fjord Line, and EagleLNG.