C-Job to Provide Basic Design for DEME's Orion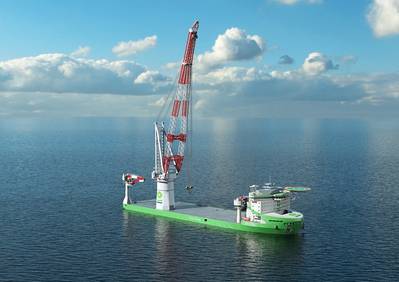 Having recently supplied the concept design for
DEME Group
's new offshore installation vessel Orion, C-Job Naval Architects said it will now provide COSCO OFFSHORE CO. Ltd (Qidong) with the vessel's basic design package. Orion will be built at
COSCO SHIPPING HEAVY
INDUSTRY in China for delivery in 2019.
The technical specs of the vessel, to be operated by DEME subsidiary GeoSea, will service offshore wind installation, oil and gas and decommissioning activities.
While working on this next phase of ship design, C-Job's dedicated Orion project team will be able to draw on the knowledge that they have built up from the concept design period. "The same team will be involved, so it is really a natural progression for us," said C-Job Project Manager Rafael Novas Garcia. "We will be able to hit the ground running with this basic design."
"Orion is a very advanced vessel with a lot of systems to integrate. It will be a challenging project, but a challenge that we will enjoy taking on."
After her 2019 delivery, Orion will be mobilized by DEME subsidiary GeoSea for offshore wind farm installation activities. To this end, the vessel's DP3 capability and accommodation for up to 131 persons will both be valuable assets in performing offshore contracts. The 216.5-meter vessel's substantial loading and lifting capacities will also mean that
GeoSea will
be able to operate in the oil and gas industry and for the decommissioning of offshore installations.
According to C-Job Technical Manager Maarten Veldhuizen, Orion will be an extremely effective tool in the rapidly expanding offshore wind industry. "In terms of size and weight of foundations and turbine components, this sector is advancing fast," he explained. "And what we are seeing is that jack-up installation vessels are reaching their limits in terms of vessel strength and payload capacity. The Orion's technical specs will give her a future-proof position in the offshore wind turbine and foundation installation market."
Illustrating Veldhuizen's point are the Orion's high-tech lifting capabilities: more than 3,000 metric tons at more than 50 meters. This is backed up by the ability to lift and install components to heights of more than 170 meters.
Orion's design also represents progress regarding on board environmental innovations. With a Green Passport and Clean Design notation, the vessel will have dual fuel propulsion (diesel and liquefied natural gas) and a waste heat recovery system.