Integrated Gas Compression: A Natural Fit for North America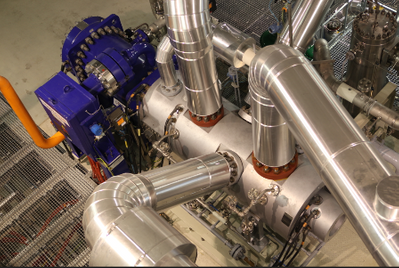 Natural gas abounds in North America. At the end of 2016, Canada and the U.S. shared 414 trillion cubic feet of proved reserves, with the U.S. the world's largest producer and Canada the fourth largest. Unsurprisingly, there's a keen appetite for developing LNG facilities across the continent.
In recent years, we've seen several large-scale LNG projects taking shape, including five new export terminals coming online in 2018 and 2019. Once in operation, they will make the U.S. one of the top three LNG exporters in the world.
Over the years, an extensive pipeline network has spread over a vast area — and this presents some exciting opportunities in terms of gas compression. Historically, the mid-stream market has been dominated by gas turbine technology, with conventional low-speed electric compression barely getting a look-in.
But that's about to change. Indeed, I see four new trends that are helping to catalyze a favorable environment for electrical compression technology in this part of the world:
Shifting attitudes: Electric vehicles, vessels and even planes are edging ahead, showcasing the strength and potential of electrification. Similarly, engineers and operators are increasingly convinced that electrical technologies are now mature enough to be considered viable options for the gas industry. This was not the case a few years ago.
Tighter regulations: Some states are changing mandates to limit emissions, environmental footprint and noise in proximity to cities. This is forcing new approaches as customers seek low-emission solutions that help facilitate faster government authorization.
Shrinking talent pool: Many oil and gas operators are reaching retirement and the capacity of project teams to address maintenance is diminishing. To stay competitive and reduce costs, companies are having to adopt new technologies that require fewer maintenance hours.
A better electricity network: The vast grid network in the North American region is largely matured and can provide reliable power at all times. The readily available, stable supply of electricity again opens doors for adopting electrical solutions at scale.
In terms of electrical compression solutions, there's also an exciting evolution on the horizon that provides a viable and attractive option for the North American market. Integrated machines that encase a suite of innovations and, most importantly, steer away from the need for a gearbox and connect the compressor directly to the motor is, to me, the natural next step for gas compressor solutions. Here's why:
Why integrated machines offer a bright future
They're safer: Both gas turbines and conventional electrical compression technology carry the risk of gas leakage — a major safety hazard. Thanks to high-speed motor technology, integrated machines can embed both compressor and motor within the same casing, eliminating the gearbox and therefore the risk of leakage. That's a big advantage in an industry where safety is always paramount.
They save money: The gas market may be growing, but cost pressures are still high. Integrated machines help reduce costs across the board in several ways. First, they don't require auxiliaries such as a gearbox, and magnetic bearings eliminate the need for oil or a cooling system. This makes them lighter, with a smaller footprint, and considerably lowers capex costs. And because integrated machines are more reliable, opex costs go down, too. That's because having fewer components reduces the risk of failure and breakdown — for example, there's no need for dry gas seals, the main contributor for failures on these systems. As a result, they cost less to maintain and are generally more efficient to run.
They respond quickly: As every gas supplier knows all too well, the price of gas fluctuates hugely — so the ideal scenario is to be able to supply gas at the highest market price. To do this however, you need machines to react quickly to the fast-changing market conditions. Where traditional compressor solutions take hours, integrated machines can be up and running within just five minutes — literally the time it takes to make a cup of coffee.
Such is the case that a gas supplier using integrated machines is able to respond rapidly to surges in demand (due to a power outage or unexpected cold weather, for example) and release gas from storage into the market. In this way, they're able to secure the highest price every time, and maximize their revenue.
At GE, we've been able to deliver an integrated machine that leverages proven technology from across our business. Packaged by BHGE, our Integrated Compressor Line combines the centrifugal compressor from their Turbomachinery & Process Solutions and the high-speed electric motor from GE's Power Conversion business. Both equipment is sealed in a single casing, with no need for lubrication, thanks to active magnetic bearings technology.
The motor — which has clocked up four million hours of successful operations over 15 years — requires very little maintenance. Customers can also choose to have a one of our resident engineers available over the warranty period, as well as a spare motor readily available on U.S. soil, in case of the highly unlikely event of failure.
What's particularly attractive is the option to integrate data analytics for the variable frequency drive, motor, compressor and bearing. It's then possible to access the data remotely and identify potential faults or deterioration before they become an issue. In this way, customers can move to a predictive maintenance model, minimizing potential downtime and costs even further.
As an oil-free, zero-emission solution, integrated electrical compression technology lowers risks and costs and allows gas suppliers to respond more quickly to market demand. The fact that electrification is now widely recognized as a mature technology overcomes a major barrier to adoption within the industry. Integrated machines are the next step in the evolution of the electrical gas compressor, and for the growing North American market, I believe they're a perfect match.
The Author
Azeez Mohammed is president & CEO of GE's Power Conversion business.