India, S. Arabia in New Petro Relationship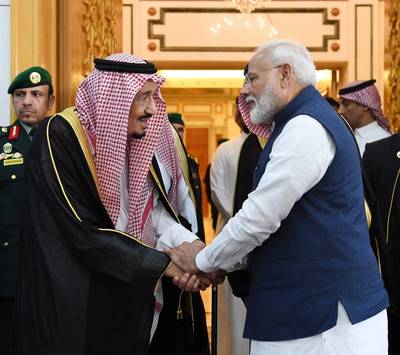 India and Saudi Arabia have decided to expand its 'energy relationship' into next phase to include Saudi partnership in building additional crude oil storage reserves in India, a new refinery on the west coast of India and investment in retail sector in petroleum.

Saudi Arabia is its second-biggest supplier of crude oil after Iraq. It sold 40.33 million tonnes of crude oil to India in 2018-19 fiscal, when the country had imported 207.3 million tonnes of oil.

India imports around 18 per cent of its crude oil from the Kingdom, making it the second-largest source of crude oil for the country, Indian Prime Minister Narendra Modi said.

PM Modi, who was on a two-day visit to the Gulf Kingdom, called on King Salman bin Abdulaziz and the two leaders exchanged views on working together closely to strengthen bilateral ties.

India and Saudi Arabia inked more than a dozen agreements in several key sectors, including oil and gas.

Saudi Aramco along with U.A.E.'s national oil company ADNOC has signed a preliminary deal with Indian state-run companies for a 50% stake in a planned 1.2 million barrels per day (bpd) mega refinery on the country's west coast.

The Indian government also plans to sell its entire 53.29% stake in state-run refinery Bharat Petroleum Corp, at an estimated price of $10 billion. Aramco is also eyeing a 20% stake in the petrochemical and refining business of Reliance Industries in a multi-billion-dollar deal.

The two sides also vowed to further enhance defense industries collaboration and security cooperation. The first naval exercise between the two nations will take place by end of this year or early next year.

The two countries also decided to move ahead on the ambitious west coast refinery project in Raigarh in Maharastra which will involve investments from Saudi oil giant Aramco, UAE's Abu Dhabi National Oil Company and Indian public sector oil firms.