GLOBAL LNG: Prices Dip as Supplies Emerge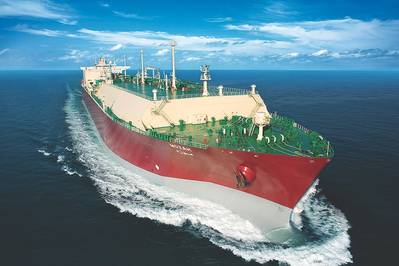 Asian spot LNG prices dipped this week amid a salvo of export tenders and tepid demand from North Asia.
Spot prices for August delivery <LNG-AS> edged down 5 cents to $5.45 per million British thermal units (mmBtu) from week-ago levels, three trading sources said on Friday.
Deal activity in the Asia-Pacific remains muted, forcing the market to use a recent ExxonMobil export tender for an end-July loading cargo from the Gorgon LNG project as a price reference, traders said.
The Gorgon cargo, was likely sold slightly below mid-$5 level to a Chinese buyer, they added.
The market has shrugged off recent production outages as concerns over tighter supplies were assuaged by a series of export tenders launched by West African and
Indonesian projects
.
Nigeria LNG and Angola LNG are both offering July-loading cargoes in tenders that close next week.
Indonesia's Donggi-Senoro LNG project is also offering a cargo for September-delivery to the Far East, indicating that the market remains well supplied.
Meanwhile, demand for August-delivery cargoes remains thin, traders said. Instead pockets of demand are only seen emerging later in the year, with import tenders
from Japan
and
Mexico seeking
some supplies for delivery in September and beyond.
A glut in global supplies is expected to persist after Qatar said it would raise its LNG production capacity by 30 percent to 100 million tonnes per annum this week.
"Qatar's expansion will surely affect the market. Although the size of the impact depends on the timing of the (new) supply," an official from a Japanese gas company said.
The greater supply and expected increase in market liquidity would encourage more buyers to buy spot LNG, the official added.
Reporting by Mark Tay