German Regulator Allows Higher Prices at 2018 Onshore Wind Auctions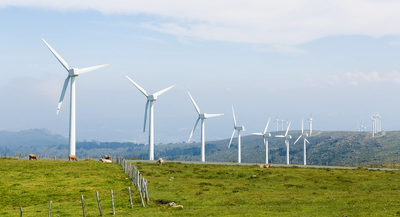 Germany's
energy regulator said
on Wednesday it had set higher maximum prices for auctions next year to build 2,800 megawatts of onshore wind parks and avert the risk that low auction results could discourage sufficient building.

The agency, the Bundesnetzagentur (BnetzA), has powers to fix flaws in changes enacted to the renewable feed-in law in 2017.

These were aimed at cutting future income for new renewable power installations to relieve the burden on consumers, but it was recognised that tariffs may fall too sharply for the desired expansion of fossil-free energy to be viable.

BnetzA raised the maximum bidding price to 6.3 cents per kilowatt hour (kWh) for the four auctions in 2018, while the limit resulting from achieved auction results in 2017 under the new feed-in law's built-in calculations would have placed it 26 percent lower, at 5 cents.

This fell short of currently assumed costs to produce onshore wind power in 2017 of 5.6 cents that BnetzA received in quotes from manufacturers and industry groups.

"There was a fear that overly low caps in 2018 would result in too few bids to exploit the allowed tender volume," BnetzA said in a news release explaining its move.

The move is being keenly watched by turbine manufacturers, project developers and utilities after offshore wind park auctions earlier this year included bids for zero subsidy projects for the middle of the next decade, as the industry cuts costs.
Last month,
Germany completed
its third onshore wind auction this year, awarding licences for 3.8 cents per kWh, down from 4.29 cents in August and 5.71 cents in May.

The total awarded capacity this year was 2.82 gigawatts.
Wind
energy accounts
for over half of Germany's renewable production and is the core energy in its long-term decarbonisation of the power sector that it wants to largely complete by the middle of the century.
Reporting by Vera Eckert