Gazprom Neft Increases Arctic Field Output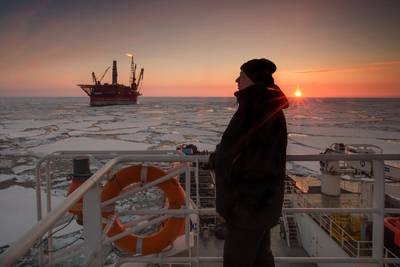 Gazpromneft Shelf, a subsidiary of Gazprom Neft (SIBN.ME), brought on production two more wells in Prirazlomnoye field in the Pechora Sea, bringing crude oil output to more than 6,000 tonnes/day.
The company now has four production wells at its ice-resistant rig, located 60 km offshore, and envisions the commissioning of 32 wells. The first well was commissioned in December 2013. All wellheads are within the platform.
Drilling for the four new wells, undertaken by
Russia
's Gazprom Bureniye LLC, ran to more than 19,000 metres.
Development of the Prirazlomnoye field, under implementation by Gazprom Neft on the
Pechora Sea continental
shelf, envisages the commissioning of 32 wells, the first production well having been commissioned in December 2013.
The Prirazlomnaya rig is equipped with technology to prevent any ingress of production of drilling waste into the sea. The project is being implemented on the basis of "zero emissions", with waste either re-injected into the strata or transported onshore for further recycling.
All wellheads are located within the platform, the base of which then acts as a buffer between the well and the open sea. In addition to which, all of the wells are specially equipped to prevent the possibility of any uncontrolled emission of oil or gas and can, if necessary, be hermetically sealed within 10 seconds.
Gennady Lubin, Executive Director, Gazpromneft Shelf, commented: "The commissioning of these new wells is fully in line with planned field development. Each new well signifies an expansion in capacity and an increase in production volumes — something that is only possible under stringent and consistent compliance with industrial and ecological safety standards."