Gazprom Neft Expands to Siberia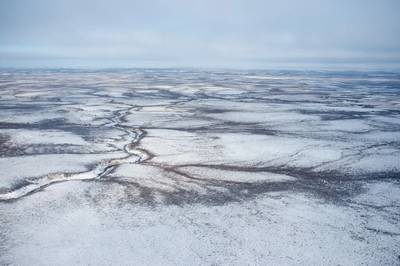 Russian oil producer Gazprom Neft (SIBN.ME) has secured hydrocarbon exploration, development and production rights to the Leninsky license block in the Gydan Peninsula.
The Leninsky license block is located in the Gydan Peninsula in the Taymyrsky district of the Krasnoyarsky Krai, bordered on one side by the Tazovsky district of the Yamalo-Nenets Autonomous Okrug and on the other by the Kara Sea.
The total size of the block is 3,650 square kilometres. According to the State Register of Mineral Reserves, reserves in place stand at 110 million metric tons of oil equivalent. The license is valid for a period of 27 years.
While investigating the oil-bearing potential of the Ust-Yenisesky exploration zone, Gazprom Neft undertook extensive reinterpretation of previously collected information, with company specialists analyzing the results of wells drilled in neighboring areas, local seismic works and electric exploration. According to internal assessments by company experts, the actual volume of hydrocarbon reserves at the Leninsky block could exceed official figures several times over.
Gazprom Neft plans to complete drilling of its first exploratory well here in 2020. Concurrently with this the company will continue working with available data and will undertake a range of independent field investigations in order to clarify the geological structure of the block.
The Gydan Peninsula is entirely without any infrastructure and is a considerable distance from any oil and gas facilities. Developing this asset will require a considerable amount of capital construction and preparatory work.
Alexey Vashkevich, Head of Geological Exploration and Resource Base Development, Gazprom Neft, commented: "The Gydan Peninsula today remains an under-researched — practically undeveloped — but nonetheless extremely promising (in terms of hydrocarbon reserves) territory. The innovative methodologies used by Gazprom Neft in geological prospecting and analyzing geophysical information means we can evaluate the resource potential of this area accurately and quickly and, in the event of a discovery, put in place a strategy for developing this asset. Securing development rights to the Leninsky licence block forms part of Gazprom Neft's strategy to gain access to new exploration zones in order to develop the resource base beyond 2025."