Gazprom Neft Crosses 12-MT Oil at ARCO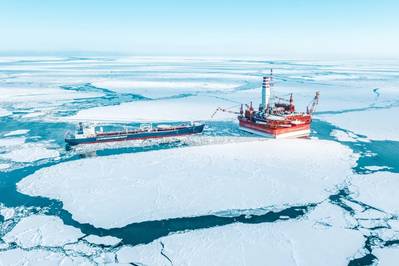 Russian oil and gas company Gazprom Neft (SIBN.ME) said that its Prirazlomnaya offshore platform in the southeastern Russian Barents Sea has produced its 12-millionth metric ton (13.23 MM ton) of ARCO (Arctic-blend) oil.

The shipment was delivered by the Kirill Lavrov ice-class shuttle tanker to the storage tanker in Kola Bay, for onward transport to locations in Europe.

The Prirazlomnoye field is the first — and, thus far, the only — project at which oil is being produced on the Russian Arctic Shelf. Commercial development of this field has seen 18 wells drilled, with construction of the 19th due for completion in the immediate future.

Safe year-round oil shipments from the Prirazlomnoye field, and effective logistical project support in the freezing Barents Sea, are ensured through the ice management system the company has in place here — a further key element of which will be the Ice Situation Management Centre currently being put in place.

Using specially developed software, this centre will receive and analyse data generated from regional and local monitoring of hydro-meteorological and ice conditions. The use of self-learning mathematical models will facilitate the development of more accurate weather forecasts of weather shipping opportunities (shipping windows) and make it possible to identify potentially dangerous ice formations at an early stage.

All information received and processed, together with online expert recommendations, will be available to captains responsible for managing the platform, tankers and support-vessels.

"Prirazlomnoye is in active development. We are continuing to increase well stock at this field, and increasing cumulative oil production volumes. The cutting-edge technologies deployed by the company, together with unique logistical solutions, are making it possible to drill wells all year round, and to produce oil and ship it, even in the most challenging ice conditions," said Sergei Chigay Acting CEO, Gazprom Neft Shelf.

"With more than five years under continuous production the Prirazlomnoye field is demonstrating the considerable potential of further offshore projects in the Arctic," Sergei added.